Keywords are the backbone of SEO. Understanding what exactly the right keywords are and how to use them is critical for your business. If you get this right, you'll find yourself attracting thousands of 'hungry for information' readers every month via keyword research, but usually, this is what most people get wrong. 
So here I'll show you how to research keywords for your SEO strategy the right way but first, let's understand some basics –
What are keywords?
Well, keywords are simply the words or phrases that we type on Google search or any other search engine (which includes social media channels too) to find relevant answers. If you are into the business of law firms then you have to make sure that your website is showing up for keywords like "law firms" or "best law firms" or "best law firms in ' your city' "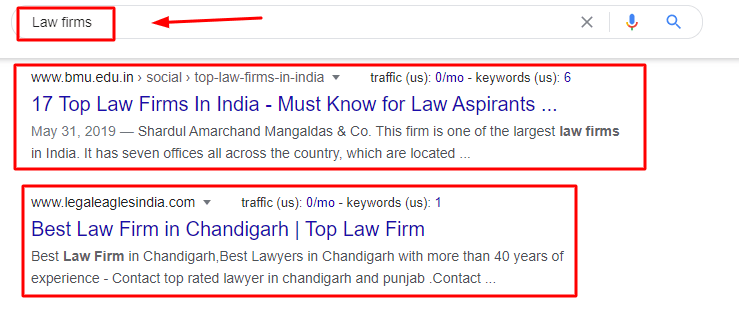 Search engines need a little help to understand your website, so you have to "feed" them with the right target keywords to increase your chances of showing up when people search for them. This is called On-page Search Engine Optimisation (in short, On-Page SEO). Just remember that keywords fill the gap between your website and search engines.
Why keyword research is important for any online business?
No doubt social media marketing is a boom but SEO is going to stay here for many many years to come. The process of researching keywords will help you to understand what people are searching for on the web. If you don't know what exactly your potential customers are looking for, then you won't show up when they'll be searching for your products or services. For example, you are a law firm owner and want to show up whenever someone searches for Law Firm or it's related words – that's where exactly keyword research comes into play. 
Once you have the list of keywords, you can try to solve your customer's problem which they might be typing into google by providing educational content.
How to find Keywords for SEO?
SEMrush is one of the most powerful tools that you can use to find keywords for Search Engine Optimisation (SEO), Pay Per Click (PPC), Content Marketing. 
Login to your Semrush Account. If you don't have an account, click here to create one right now, for FREE.

On the left side, you'll see the Keyword Research

Click on Keyword Magic Tool 
Keyword magic tool will appear on your screen and it will look like the image below:
Enter the keyword

Select the targeted location as per your business or niche
How to Use Semrush for Free?

Semrush offers 3 plans:
Pro Plan ( Best for Freelancers, Startups, and Bloggers ) 
Guru Plan ( Best for SMB & Marketing Agencies )
Business Plan ( Best for eCommerce Projects & Big Agencies )
The pro plan is best suitable for freelancers, startups, and bloggers. So if you're trying this tool then I'll suggest you go with the Pro plan first and get the most out of Semrush. If you want to get a free trial click here and start using Semrush free for 7 days. But in this case, you'll need a debit/credit card and they will charge you $1 which is refunded back to you immediately. This is done just for verification purposes.
I'll suggest going for a 7-day free trial because you will get access to all the features of Semrush that too without any cost. If you don't want to get charged for the pro plan, discontinue the service before the end of a free trial, and here you go. You have easily availed Semrush services for free.
The all-time free trial is very limited and not useful at all. Now it is in your hands whether you want to take your SEO game to the next level with Semrush or get limited access with very few features. CHOOSE WISELY!
The keyword magic tool will present you with an extensive list of keyword ideas that you can use for SEO or PPC. The first column contains the keyword, the second column contains the keyword search volume i.e. how many people are searching for that particular word per month.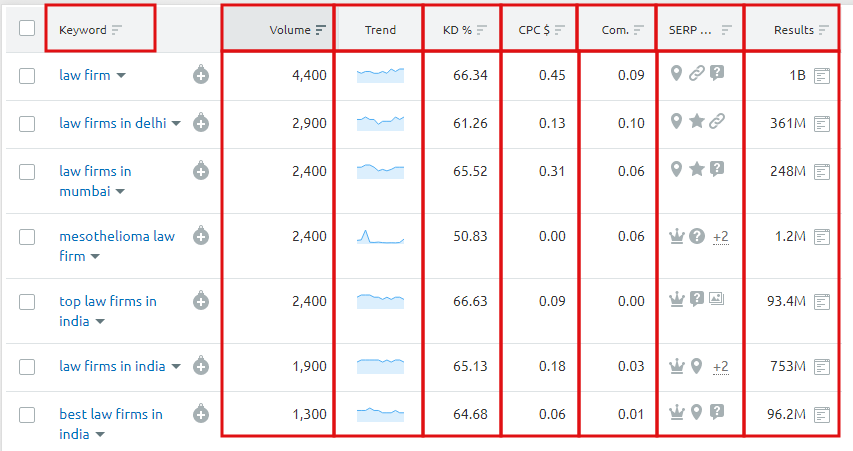 What are Keyword Trends?
Not all keywords are searched every time. Some keywords are seasonal like 'Christmas Gifts' are searched heavily in the month of December whereas others are searched on and off depending on user needs.
Keyword trends tell you that at what time of the year people are searching for your service/products.
In the above image, some keyword trends are on a hike during the first half and some are on a hike during the second half of the year.
What is KD?
KD stands for keyword difficulty which basically tells how hard is it to rank for that keyword. KD is denoted with a number base from 0 to 100.
If KD = 100, it's extremely hard to rank for
If KD = 0, you can rank for that word easily
If KD is around 50 or 60, it's doable. 70 is a bit complicated but you can still rank for. Anything over 80 is going to be hard and over 90 is going to be very very hard to rank for.
Customizing your keyword
You can also extract a list of keywords that include some specific words like 'top' or 'best' from the sidebar. It's like filtering your keyword list as you desire. Isn't that great? 
How to do Keyword Research for Local SEO?
If you are searching for keywords local to your area then you can add the city name along with your target keyword.
For example, I want to search for keyword ideas related to law firms Delhi, I will simply add the city name with my main keyword. Keyword 'law firms in Delhi' have around 3k searches/month with varying trends. This is the best way to find local SEO keywords.
Researching for keywords was very exhaustive earlier. A lot of manual work was involved due to which I used to spend weeks preparing my keyword list. But with SEMrush, it's like eating a piece of cake. I have been using it over for 2 years now and I'm crazy in love. This is my bible for SEO. Once you start using it, you'll love this tool too as I do.
Click the link to start your free trial for SEMrush.
Which is the Best Keyword Research Tool?
SEMrush is one of the best tools for researching keywords because it is packed with so many in-built features that makes SEO easier and hassle-free. You just need to pay one flat price and that's it! You can use all the tools under SEMrush rather than paying for each additional tool separately. If you want to try Semrush, click here.
Why SEMrush?
It is the leading SEO and PPC tool with over five million (5 Million) users.
SEMrush offers great plans starting from just $99/month so that members can use them to drive more traffic, sales, and leads in profit to their business.
SEMrush gives you access to a wide variety of features in one plan so you don't have to purchase different tools.
It is more like a combination of workspace software, writing tools, plagiarism checker, and SEO tools.
A great support system of SEMrush staff can help you to resolve your queries if you have any.
Final Thoughts:
If you are searching for a tool that can give you detailed research of keywords in no time and with just a one-time price then SEMrush is perfect for you. Not just only keyword research, it gives you plenty of tools like Site Audit, Backlink Analytics, Competitor Analysis, Content Ideas which makes your online marketing journey easy. 
What are your views? Did you like our blog on Keyword Research? Drop your thoughts in the comment section!
FAQ Related to Keyword Research:
Where can I get SEO Keywords for Free?
You can get SEO keywords for free from tools like Keyword Planner, Search Console, Keywords Everywhere but SEMrush is one of the best tools for SEO Keyword research. It gives you access to all tools under one roof and at one pricing. Click here to start your SEMrush journey at a 16% Discount.
How do I find local keywords?
For finding local keywords, you can use the Keyword magic tool by Semrush and add a city name that you want to target with the keyword. It will show you a list of keywords with search volumes, trends, competition, and cost per click.
How many keywords are good for SEO?
When it comes to keywords, I always recommend one focus keyword for one comprehensive piece of content. Using a tool like Semrush can save you precious time & help you to know the data behind your golden keyword. If you are going to invest the time, the effort into writing a piece of content for that keyword. You need to know the answers to the questions like is this keyword low in competition or high in search volume or relevant to my industry, business, or niche.
Disclosure: This content contains few affiliate links, which means if you purchase any tool via our links you will help us fund this blog. No additional cost will be charged to you. Win-win for both of us, right?