It's the video era! Everyone loves watching videos, right? That's why I always emphasize creating video content. It ain't easy. Preparing. Recording. Shooting. Editing – It requires a ton of effort. Preparing, recording can still be taken care of but when it comes to editing – it can cost you a fortune if you take access to those professional video editing apps or tools.
I'd definitely recommend you spending money on the best video editing app or software only if you are producing a lot of videos. But, for beginners, I'll obviously recommend you, choose the free video editing apps and tools to get started, learn from your mistakes, improve, and then when you are ready to spend, give them a try!
We all know, Video editing is one of the most challenging parts whether it is film making or marketing. You want to provide value to your audience and that requires a perfectly edited video. And, as a beginner, it's difficult to purchase them.
The question is, do you seriously need high-end video editing software when you are getting started with social media or otherwise? Not really. As the number of smartphone users has increased, so has the number of Android, iOS, iPad video editing apps without watermark. They not only make video editing on mobile quick and easy but saves you a lot of money, time, and effort.
There are many video editing apps for beginners on mobile. Everyone has its pros and cons but here are the top 13 free video editors without watermarks that I purely love and would recommend to any of the beginners. And the best part is, you don't require very high-specification mobile phones to use them.
1. Inshot
Inshot is one of the best free video editing apps for android without a watermark that I have used and is a highly recommended video editing mobile app for beginners. Usually, video editing apps are difficult to use but Inshot has made everything look so easy. You can easily trim, merge, split your video according to your preference. Along with that, you can adjust the speed of the video from fast to slow or vice versa. Inshot app has a library of music (both free and paid) that you can use in your videos and make them sound more interesting. Inshot is a great app if you are just starting out and can be used by marketers, freelancers, or anyone.
Pros of using Inshot Video Editor –
– Numerous filters and effects
– Easy to add text and emojis to your video
– No Watermark
Inshot is compatible with – Android, iPhone, and iPad
2. YouCut video editing app
YouCut is another free no watermark video editing app for beginners. It gives you a great user experience thus making your video editing look so feasible and quick on your mobile that you won't go back to any other app/tool rather than YouCut. It enables you to add music in the video either of your own choices or choose from the ones that are pre-installed in the app. What makes YouCut different from Inshot is the transition effects. If you want to make your videos look extremely professional, cool, and engaging – YouCut is the one.
Pros of using YouCut Video Editor –
– Fade in and Fade out of music
– No Watermark
– Easy to use
YouCut is Compatible with – Android
3. FilmoraGo
FilmoraGo – an app developed by Wondershare takes you to the next level of video editing. The best thing offered by FilmoraGo is that you can export your video at resolutions up to 4k which enhances the quality of your video. FilmoraGo was introduced after the success of Wondershare Filmora software for PC. It gives you a feel of professional video editing on mobile as it covers the green screen and screen recording features that are not covered by most of the video editing apps on mobile. The only con I could find for FilmoraGo is its size. The app size is a bit large as compared to others and consumes a lot of mobile memory.
Pros of using FilmoraGo Video Editor Without Watermark –
– Green screen and Screen recording features
– Instantly uploads your video to different channels
FilmoraGo is compatible With – Android
Download FilmoraGo for Android
4. iMovie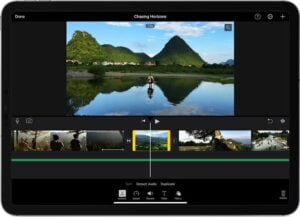 As the name suggests, iMovie is from Apple. iMovie has some really cool new special effects which won't be found in other video editing apps. It gives you powerful performance in every video you edit and this app won't disappoint you. The only disadvantage of iMobile is that it is not available for Android users.
Pros of using Imovie Video Editor –
– Takes your video editing to the next level
– Exports video up to 4k resolution
iMovie is compatible With – iPhone, iPad, and Mac
5. Adobe Premiere Rush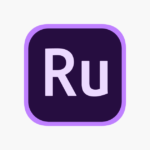 Adobe has been best in their business may it be Adobe Premiere Pro or Adobe Illustrator or any other Adobe product. Adobe's video editing app for mobile – Adobe Premiere rush gives you the cool new text effects which cannot be found anywhere except in adobe's app. You can export up to 3 videos from Premiere Rush for free. After that, you'll have to purchase its premium version. Give it a try, newbies.
Pros of using Adobe Premiere Rush Editing App –
– New text effects
– Get 2 Gb of Cloud Storage
Adobe Premiere Rush is compatible with – Android, iPhone, iPad, and Desktop
6. VideoShow Video Editor
If you want to make funny videos then VideoShow will be a perfect choice for you. VideoShow allows you to add funny sounds and music to make your video look more creative and appealing. The VideoShow mobile video editor doesn't leave any watermark in your videos and is free to use. You can create pretty engaging content for platforms like Facebook, Instagram, or Snapchat but it might not be suitable for professional video editors.
Pros of using VideoShow Video Editor –
– Funny sound effects
VideoShow Video Editor is compatible with – Android, iPhone, and iPad
7. PowerDirector Video editing app
As the name suggests, PowerDirector is one of the powerful and best tools for video editing on mobile. You can create videos for Facebook and Instagram in the ratio of 1:1 which makes it a unique free video editing app. The feature that attracted me the most is the video collage designer which is not found in the apps mentioned above. Add transition to the video collage without any hassle and make it look more stunning.
Pros of using PowerDirector Video Editing App –
– Video Collage Designer
– Reverse, Repeat and Replay Effect
– Correct Color Distortion
PowerDirector is compatible with – Android, iPhone, iPad, and Desktop
8. Quik – Free Video Editor
Quik video editor is developed by GoPro for video editors to give a top-notch effect to their videos. Just add your photos or videos and let Quik do its magic. It will automatically add some transitions and filters according to the video. You can also customize your video effects manually within minutes. It doesn't show any kind of ads while editing which is a dream nowadays that an app is not showing ads.
Pros of using Quik Video Editing App –
– Editing Real Quick
– Inbuilt templates
– No ads
Quik is compatible with – Android, iPhone, and iPad
9. Vizmato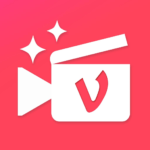 Vizmato has got a place in my list because of the Instant VFX effects like echo, heart, and jitter. The VFX effects make Vizmato unique from other apps. But there will be a watermark in every video you export. You can consider purchasing their premium version to remove the watermark.
You can automatically share your videos to different channels like Youtube, Instagram. Vizmato is a full powerhouse for those who want to add some kind of VFX in their videos.
Pros of using Vizmato Video Editor –
– Unique VFX effects
– Many music options to choose from
Vizmato is compatible with – Android, iPhone, and iPad
10. KineMaster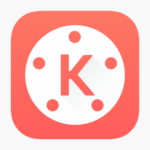 Unlike other video editor apps, KineMaster allows you to put as many texts or images in your video. The pre-installed themes in the app make your editing really quick and effective. KineMaster is a video editing app for those who don't want to make a video for professional purposes. It also leaves a watermark in every video you export.
Pros of using the KineMaster Video Editing App –
– In-built themes
– Multi-track audios
KineMaster is compatible with – Android and iPhone
11. Viva Video
Viva Video is quite somewhat like KineMaster but the only difference is that the in-built themes in Viva Video are somewhat different from Kinemaster. The slow-motion editor is also in-built which can help you to add the effect of slow-motion without any hassle.
Pros of using Viva Video Video Editor –
– Nice Filters 
– Simple and easy to use
– In-built slow motion editor
Viva Video is compatible with – Android and iPhone
12. Enlight Videoleap
This app for video editing will surely make your editing process easy without any doubts. You can easily add stickers and text to your video. If you are looking to make videos for Instagram then this might be the tool for you. 
Pros of using Enlight Videoleap –
– Green screen/chroma key compositing
– Offers more basic tools like filters and effects
– Limited layers for the free version
– More than 100's of sound effects
– Background color optimization
Videoleap is compatible with – Android and iPhone
Download Videoleap for Android | Download Videoleap for iOS
13. Vllo App for Video Editing
It is one of the simple video editing apps I have used till now. Very easy to use and the free version of this app is good enough for beginners to go with. If you want to buy this tool, you have to pay one-time fees so that you can use pro mode.
Pros of using Vllo –
– Add overlay video
– Unlimited fonts and 200+ background music to choose from
– Add Seamless transition to make your video a pro
– Add your voice while editing in a single touch
– No watermark even in the free version
Vllo is compatible with – Android and iPhone
Download Videoleap for Android | Download Videoleap for iOS
Conclusion:
FAQ Related to Video Editing:
Is there any video editor without a watermark?
Yes, there are several video editing apps without a watermark, and that too for free. Some apps are Inshot, You cut, Adobe premiere rush, Filmora Go, Vizmato, and iMovie.
How can I remove a watermark from a video??
To remove a watermark from the video, you can crop the video where the watermark is showing using any free online video cropping tool. It can give you the results that you want in no time.
What is the best video editing app for Android?
Some of the best free video editing apps that I personally recommend for android phones are Adobe premiere rush, Inshot, You cut, Filmora Go, Power director, Kine master, Viva video.