Exclusive Offer for Limited Time
| | |
| --- | --- |
| | Hostinger Verdict: 4.5/5 |
| SPEED: | 370 ms (April 2020 to March 2021) |
| UPTIME: | 99.98% (April 2020 to March 2021) |
| SUPPORT: | 24*7 Live Chat, Knowledge Base & Ticketing Option |
| APPS: | WordPress, Drupal, Joomla, PHP, PrestaShop |
| FEATURES: | 100 GB bandwidth and 10 GB storage, free SSL, free domain, website builder, 1 Email account, 30 Days money back guarantee, 99.99% Uptime Guarantee |
| HOSTING PLANS: | Shared, WordPress, VPS and Cloud |
| PRICING: | Starting at $1.3 (85% OFF) |
| WordPress Hosting: | $1.9 | Activate Coupon Code |
| | |
| --- | --- |
| | Bluehost Verdict: 4.3/5 |
| SPEED: | 675 ms (April 2020 to March 2021) |
| UPTIME: | 99.97% (April 2020 to March 2021) |
| SUPPORT: | 24*7 Live Chat & Phone Support, Knowledge Base, Email support |
| APPS: | WordPress, Drupal, Wiki, Joomla, Magento, phpBB |
| FEATURES: | Unlimited bandwidth and storage, free SSL & CDN, free domain for 1st year, 1-Click WP install, 30 Days Money Back Guarantee, Domain Privacy |
| HOSTING PLANS: | Shared, VPS, Dedicated, Reseller, WordPress |
| PRICING: | Starting at $2.75 | ₹175 (40% OFF) |
Are you an entrepreneur or a blogger or did you just purchased a domain name for your business and now looking for a web hosting service?
If you're landed on this article, then probably you're confused about whether to choose Hostinger or Bluehost as your hosting provider.
At the end of this Hostinger vs Bluehost review, you can make an informed decision that which one is good for you.
I have also included some performance tests of both hosting providers which will give you unbiased data-based recommendations.
Let's start with an overview of both companies – Hostinger and Bluehost.
Hostinger Overview:
Hostinger was founded in 2004 and has created 29 million users so far. Hostinger has made a name for itself by providing the cheapest web hosting services around the globe.
Their plans are inexpensive and powerful too. It is a great website hosting provider for beginners and professionals. Hostinger aims to make life hassle-free for developers and their customers.
Hostinger Features:
Whether you are looking for a VPS or some shared hosting space, Hostinger has got you covered with its comprehensive services.
All plans except a single shared plan come with a free domain name.
Free website transfer – A team of experts will transfer your website for free.
Free SSD drives are included on all shared hosting plans.
You can get packages for 1 month, 12 months, 24 months, and 48 months respectively. Taking a long-term package makes the cost of hosting even more affordable.
Servers operate at LiteSpeed, PHP 7, and HTTP 2 built-in caching technology.
All packages come with free Let's Encrypt SSL certificates and Cloudfare CDN.
Hostinger also offers you a 30-day money-back guarantee.
Other services include WordPress Plus Semi Hosting, Email Hosting, Minecraft Hosting, E-Commerce Hosting, Cloud Hosting, Website Builder, and Web Design Services.
Hostinger accepts payment via PayPal, credit card, and bitcoin.
Bluehost Overview: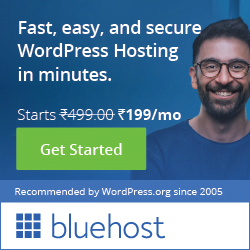 Founded in 2003, Bluehost is owned by Endurance International Group. It is one of the 20 largest web hosts, which collectively hosts over 2 million domains.
They offer you a wide range of hosting features at competitive rates that will leave you wow! They give you everything you need for a successful website.
Bluehost Features:
Bluehost offers a free domain name for one year included with most plans.
Every shared hosting plan includes free SSD drives.
The servers are powered by PHP 7, HTTP / 2, and Nginx caching.
Bluehost provides you free SSL certificates (Let's Encrypt) and Cloudflare CDN.
If you do not like Bluehost's service, they offer you a 30-day money-back guarantee.
Choose your plan from shared hosting, WordPress hosting, VPS hosting, and dedicated server hosting.
Bluehost accepts payment by credit card and Paypal.
It offers packages for 6 months, 12 months, and 24 months respectively.
To attract more customers, Bluehost provides unmetered bandwidth, unlimited storage, Google Plus Bing ad credit, scalability, and much more.
Bluehost is one of the few web hosts officially recommended by wordpress.org (the official WordPress site) because of its great support service and scalability.
Checkout Bluehost Pricing details here
Price Difference:
Let's start with the price difference between Hostinger and Bluehost.
Hostinger Pricing –
Hostinger has its cheapest single shared hosting plan of $ 0.99 / 59 INR per month for a 4-year plan.
Make a single payment of about $ 47.52 / 3,132 INR and enjoy your hosting for 4 years. Great, isn't it?
Here's Your Chance to Get the Maximum Discount on Hostinger!
Bluehost Pricing –
The cheapest plan of Bluehost comes at around $ 3.95 / 199 INR per month for 3 years. All you have to do is make a single payment of about $142.2 / 7,134 INR.
On average Bluehost is more expensive as compared to Hostinger at every level.
Why is Bluehost expensive?
Bluehost is a smart player. They decided to stand out from their competition.
While every single web hosting provider is racing to get the latest technology, Bluehost is more focused on the user experience. I would really like to compare them to Apple.
Everyone knows that Apple technology is not the fastest or cheapest, but millions of people love Apple because of its user experience and the feeling they get while using their service.
Bluehost provides easy access to tools that are complex such as Google Ads from their dashboard.
Bluehost beats Hostinger with one thing in their cheapest plans i.e. you get a free domain name.
Hostinger also offers a free domain name when you buy a little expensive plan, but even if you buy a separate domain name with Hostinger, it's still going to be reasonable than Bluehost. 
Which has better pricing – Bluehost vs Hostinger?
Winner – Hostinger
( Score: Hostinger – 1 | Bluehost – 0 )
In price comparison, Hostinger beats Bluehost by providing you approx. 50% cheaper plan.
But as said, Bluehost is more focused on a user-friendly experience. Remember, pricing should not be the sole criteria for selecting a web host provider.
Performance Tests:
Hostinger Performance Test –
Hostinger, while being a cheaper option, is really performance-intensive. By using Litespeed servers, PHP 7.4, and HTTP / 2, Hostinger shares their infrastructure on Google Cloud Platform and uses SSD storage over HDDs. In laymen's language, it is some good stuff.
Bluehost Performance –
The focus of Bluehost hosting is mostly on its features. The last update Bluehost had received was way back in 2017. Therefore, there is no shame in saying that they are going a bit late in the updates.
Just to elaborate on the performance difference between Hostinger and Bluehost, I actually created a brand new empty WordPress website for getting clear results.
With the cheapest plan, Hostinger loaded the empty website in 1.2 seconds which is great stuff. A good hosting provider is expected to provide around 1s loading time.
Whereas Bluehost took over 2.9 seconds of loading time which is far more than hostinger.
For your information, both the hosting providers have automatic WordPress installers available in their dashboard which makes it very easy for a beginner to create a website.
So, this was a speed test on empty websites with absolutely no data and no users.
Let's see the speed performance of both hosting providers on a website that has data and virtual active users performing actions like buying a product or reading a blog post.
To check the performance, I am sending 50 virtual users on both websites (one hosted by Hostinger and one hosted by Bluehost) to see what happens to the speed of the website if 50 users are active on the website at the same time.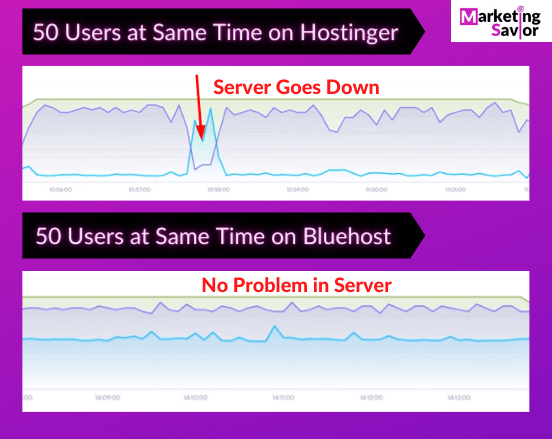 The cheapest plan from Hostinger was not able to handle 50 users at a time and it took a dip.
Whereas Bluehost and their cheapest plan though slow in speed were able to handle 50 users at the same time with no problems.
Well, it is fun to do these demonstrations and watch the graph going up and down.
Which has better performance – Bluehost or Hostinger?
It's a tie
( Score: Hostinger – 1 | Bluehost – 0 )
Now, the ball is in your court whether you want fast web hosting or hosting that has the ability to handle a good number of active users at the same time.
With this performance test, it is clear that Hostinger Plan is 2X faster than Bluehost.
However, if you're looking at the cheapest plans, Hostinger limits the user count to maintain its faster performance, but Bluehost does not. If you are getting a sufficient amount of users, then you should not go with the cheapest plan of Hostinger.
Customer Support Options:
Hostinger Support Options –
Real-time Live Chat
With Hostinger, if you are a self-doer and want to fix the problems by yourself, you get a broad knowledge base to browse from. They provide you with detailed articles and step-by-step instructions with pictures that are constantly updated.
Online mail support – Got doubts? Just shoot them an email. It's a ticketing system where you submit your queries and an expert will connect with you to resolve your issues.
Phone support is NOT available with Hostinger which is a minor setback.
Bluehost Support Options –
Live chat with instant response time and 24*7 availability.
From their vast knowledge base, You can search for tutorials and how-to videos and find solutions to your problem.
Unless like Hostinger, Bluehost provides phone support where you can have a call with the expert itself.
As to the accuracy of the support agents, I really can't give much information because it totally depends on the representative who is helping you. I had a good experience with both Hostinger and Bluehost on live chat.
Which has better Customer Support Service – Bluehost or Hostinger?
Winner – Bluehost
( Score: Hostinger – 1 | Bluehost – 1 )
Bluehost is a clear winner here because along with LIVE chat it also provides phone support making it is easy and hassle-free for users to communicate their problems with the agent without typing long messages.
Extra Features:
Hostinger Server Location –
Imagine, How cool it would be if you get an option to select the data center where all your website data is stored? Well, Hostinger makes it possible.
With Hostinger, you'll get an option to choose the data center as per your requirement.
Servers of Hostinger are located in the United States, Europe, and Asia. Let's understand the benefits of choosing the right data center.
The minimum the distance between your users and your website files, the faster will be traveling speed of the information.
As compared to Hostinger, Bluehost has data centers located only in the United States that too on the West Coast and the East Coast.
So, If you are planning to build a website where your target audience is European or Asian, go for Hostinger as it will allow you to select your server as per your needs. Thanks to their multiple data centers.
Bluehost Website Staging –
Bluehost has a very useful feature known as website staging. This means that you can duplicate your original website, make any change you want, and test those changes before showing them to the public. This will help you to cross-check your changes to avoid any blunders.
Conclusion:
Again it's a tie
( Score: Hostinger – 1 | Bluehost – 1 )
Remember when I said that Hostinger is a bit more focused on technology?
Well, Bluehost is focused to help you with your business-related things such as providing consulting and tools so that you can manage your business effectively and efficiently.
In short, Hostinger specifications are better suited to host International websites with an emphasis on better speed and performance, while Bluehost will help you grow in the US market and raise your business.
Which hosting you should choose – Hostinger or Bluehost?
Selecting a hosting solution is mainly based on the targets you want to attain with your website. Not an easy job as Bluehost and Hostinger both are providing excellent web hosting services.
Who should choose Hostinger?
I think Hostinger is the best cheap web hosting option for those who want a very low price and good performance.
But you will be in charge of handling your website without any external help. It can be a great solution for small websites such as personal blogs that don't require additional features.
However, the live chat feature is still lacking for unregistered users. You should pick their shared hosting plans as Hostinger is best known for it.
Who should choose Bluehost?
Bluehost is for those who are new to starting a business and want some help with their digital strategy.
Yes, performance is not all that great, but when you are just starting a business, customer retention is a lot more important than top performance.
Bluehost offers many hosting solutions depending on your needs. Each scheme comes with sufficient features and functionality.
Hostinger vs Bluehost Review FAQ:
Is Bluehost a good web host?
Bluehost is great for beginners and has an extremely user-friendly interface which makes it easy to manage your website, you will get outstanding customer support which is truly the best I have experienced in the web hosting industry so far. The performance you get even in the most basic plan is very much valuable and worth the amount spent.
Which Bluehost plan is best?
Bluehost is officially recommended by WordPress.org since 2005 which makes Bluehost the default choice for bloggers. A shared hosting plan is the one you should consider. Benefits you'll get are - Unmetered Bandwidth, Free SSL Certificate, 1 Included Domain, 5 Parked Domains, and 50 GB SSD Storage. You can avail all these features in the cheapest shared web hosting plan.
Is Hostinger good for hosting?
Hostinger is still one of the best choices for web hosting in 2021 and there is actually a reason why they grew so fast. Their prices are extremely low, performance is better than ever, and gives you plenty of features to manage your site. Everyone can find what they need for web hosting on Hostinger at affordable prices.
Is Hostinger better than Bluehost?
Hostinger is best for people who want an extremely low price and good performance. But you have to manage your website yourself without much external support. Bluehost is best for those who are new to starting a business and need some help with their digital strategy.
Disclosure: This content contains few affiliate links, which means if you purchase any hosting via our links you will help us fund this blog. No additional cost will be charged to you. Win-win for both of us, right?
Summary
Reviewer
Date
Reviewed Article
Bluehost vs Hostinger | Which is the Best Web Hosting Provider and Why?
Rating





Product Name
Bluehost & Hostinger Web Hosting
Price
Product Availability