Buying an online space in this competitive market is confusing. There are so many 'best web hosting providers' that it becomes difficult to actually find one. If you really want to see the PROs and CONs of each provider, you have to go deep inside the waters of the web hosting providers to understand what makes one hosting provider different from another.
Such a time-consuming task, isn't it? 
Well, we've got your back and have done all the research work from scratch. After spending hours doing research, we have categorized them based on different hosting needs, performance, features, and pricing plans to help you choose the RIGHT hosting provider which is cost-effective and custom-tailored for your business.
Here you'll get hosting for every business – whether you need cheap web hosting for blogs or web hosting solutions for your small-mid business. We have listed the best so that you can spend wisely.
1. Hostinger – Cheap & Reliable Web Hosting Option
With more than 29 million customers in 178 countries and 15,000 new customers acquired every single day,  Hostinger stands first on our list. 
If you're looking for effective, affordable, and easy-to-use hosting for your website, then Hostinger is the way to go. Their regular-price plans are less than $2.99 per month for a 1-year subscription and as low as $0.99 per month for a 4-year subscription.
Features available on Hostinger are pretty much similar to other hosting providers but with Hostinger you can go for many hosting options like Shared Hosting, WordPress Hosting, Cloud Hosting, and Virtual Private Server Hosting (VPS Hosting).
The most economical plan of Hostinger comes with shared hosting. If you are a blogger or you run a small business, you will get a ton of features like a free website builder and Hpanel (site maintenance toolkit) that will make the website set up like a cakewalk even if you're a beginner.
Hostinger PROs :
Pricing – Amazing performance packed with some good features at a price lower than that of other hosting providers.

One-click WordPress Installation – Install WordPress in no time using the auto-installer feature from the admin panel of Hostinger.

Large Library of Educational Resources – If you ever get stuck, browse through the free educational material that is available for all customers.

Top-Notch Customer Service – Hostinger's team of experts is always ready to solve your problems via 24*7 live chat, email, and support tickets. 

Guarantee's 99.99% Uptime – Hostinger promises that your website will be available to the users 24*7 and 365 days a year.
Hostinger CONs :
No Phone Support – You won't get any phone support with Hostinger. So, it sometimes becomes difficult to explain your problem via text on the mail or live chat.

No Dedicated Hosting Plan – If you are looking for dedicated hosting plans, then Hostinger is not for you.
Yes, definitely Hostinger is a good web hosting provider. The best thing about Hostinger is that they feel like a premium web hosting company and offer premium features such as uptime guarantee, 24*7 support, free SSL certificate, protection from DDoS attacks, free website creation service, and good site speed.
You visit Hostinger for an affordable price and stay for a quality hosting experience. With the lowest rates in the market, Hostinger is a brilliant option for people who want to cut their costs on web hosting.
Check our blog post for a detailed comparison of the best web hosting sites – Hostinger vs Bluehost.
2. HostGator – Best Web Hosting Provider for Startups

HostGator stands second on our list of the best web hosting sites. A dollar invested in HostGator is the best value for money. Being one of the largest and oldest web hosting providers in the market, HostGator offers complete and affordable shared hosting packages for websites.
Whether you are running a personal blog or an e-commerce shopping store, HostGator has a hosting plan for all your needs. Their plan starts as low as $2.75 per month on a 3-year membership.
Shared hosting plans are divided into 3 categories called Hatchling, Baby, and Business. For users who are on WordPress, HostGator offers a cloud hosting plan whose speed is 2.5 times faster than a typical and old WordPress server.
HostGator gives you the advantage of unlimited disk space to increase your storage space on the website so that you can provide amazing content to your users without any interruption.
HostGator PROs :
Free Site Migration – HostGator gives you an option where their expert team transfers your site from your old host at no additional cost within 30 days after buying the plan.

99.99% Uptime Guaranteed – HostGator guarantees 99.99% uptime and if you experience downtime below that, you will get a one-month credit back in your account. Isn't it great?

Take Your Money Back – HostGator gives you 45 days guaranteed money back option if you purchase their plan.

Choose Between Monthly and Annual Plans – Going for a longer period of service can get you more discounts but do not jump for long periods before testing them. PS – hey, you can blindly go for a longer period with the hosting providers recommended by us as we have done extensive research for you.

Free Backup – You don't have to worry about regular backups because HostGator offers free weekly automatic backups and restores.
HostGator CONs :
Features – Some great features such as security and speed are only included in the expensive plans.

No Domain Registration – You won't get a free domain after purchasing the plan which is a bit turn off.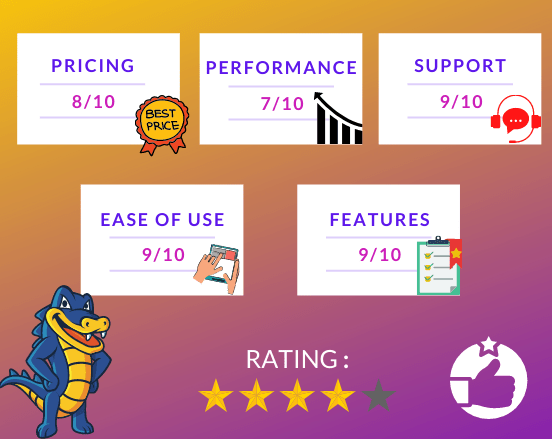 Overall, HostGator is a pretty good web hosting service. In fact, it does have a lot of feature-packed plans that cater to both experts and beginners. The prices are still very affordable if you're looking for a long-term commitment. Also, they have a great money-back guarantee, so you can try it without risk.
Fortunately, there are a lot of resources available online if you got stuck so you won't have to deal with their below-average technical support very often. If you choose HostGator over others to host your website then you won't be disappointed.
3. Bluehost – Officially Recommended by WordPress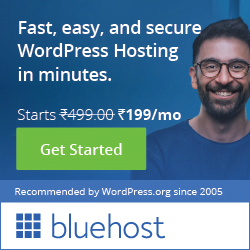 Bluehost is a very popular web hosting service and is often the default choice of many new bloggers, entrepreneurs, and web developers. Get in-depth Bluehost pricing details here.
Bluehost offers various hosting plans so that you can choose the right plan as per your business needs. Most hosting packages of Bluehost come with unlimited bandwidth, SSL certificate, free global CDN, and free daily, weekly and monthly backups. Amazing, isn't it?
The cheapest hosting plan of Bluehost starts at $3.95 per month. If you are planning to start a website or blog, then you should definitely check out Bluehost. Why? Because it is one of only 3 hosting companies endorsed by WordPress itself.
Bluehost PROs:
Security – Even though Bluehost is one of the "cheapest" options in the market, you'll be glad to see that they do not compromise your security features.

Enhanced cPanel – Bluehost's Cpanel is very easy to use and provides fast access to features.

Several Databases – Bluehost provides you with various databases such as PostgreSQL, CGI-BIN, MySQL, PHP, Python, Ruby on Rails, Perl, and more.

E-commerce Features – Multiple shopping carts are available for e-commerce stores including free SSL security.

Top-Notch WordPress Hosting – Bluehost is considered the best WordPress hosting as compared to other hosting providers.
Bluehost CONs:
No Free Migration of Sites – Unfortunately, Bluehost doesn't offer free migration of sites. You have to pay a one-time fee of $149.99 that includes migration of up to 5 websites, 20 email accounts, and any other database files for these sites.

Only US Servers – If your target audience is in the US then it's a pro otherwise it's a con because you might face a bit of delay in their performance.
Bluehost has the best cost to value ratio. It is great for both beginners & advanced users and is a top choice especially for someone who is starting with a new website.
Bluehost is one of the better service providers for newbies who are just starting out and are keen to learn how absolutely everything works. So if you start with them, you'll never need to switch.
Check our blog post for a detailed comparison of the best web hosting sites – Hostinger vs Bluehost.
Being an approximately 25 years old player in the market, DreamHost is one of the longest-reigning web hosting providers and hosts over 1.5 million sites.  Many people recommend Dreamhost. In fact, WordPress has also endorsed them on its official website (WordPress.org). 
DreamHost provides various options to webmasters who want to build a good website. Their easy-to-understand hosting plans, affordable price, and great features are sufficient to run a decent-sized website without any problems. The domain name comes included with the hosting package of DreamHost. Choose from over 400 TLDs such as .com, .org, .net or extensions like .club, country-specific TLDs such as .es or .de. Regular plans start as low as $ 2.95 per month for a 3-year subscription and cloud hosting starts at $ 4.50 per month for an annual subscription.
If you want maximum web hosting power, then you'll have to get a dedicated server. With a dedicated server, your website itself resides on a server, thus taking advantage of all system resources. With top-notch customer satisfaction,  DreamHost has helped a hundred thousand websites to be successful. Thanks to their smart architecture based on SSD disks, accelerated networks, and fast next-gen processors, and servers that are ready for SSH in less than 30 seconds on average.
DreamHost PROs:
Industry Leading Money-Back Guarantee – If you are unhappy with their services, DreamHost offers you a period of 97 days to get your refund. Most hosting providers offer a money-back guarantee of only 30 days.

Unlimited Bandwidth – All DreamHost plans come with unlimited bandwidth and generous storage. Unlike others, there are no boundaries.

Customer Service – One of the major PRO of DreamHost is customer satisfaction. Support is very good with a fast response time to 24*7 live chat and email support.

No Offensive Pitches – So many contestants will encourage you to buy add ons with aggressive pitches, but this is not the case with DreamHost.

Uptime – It has an impeccable record of 99.9% uptime.
DreamHost CONs:
No cPanel – Dreamhost doesn't have cPanel but instead, they have their own control panel. cPanel is a convenient way to manage all aspects of running your website so for those who are familiar with cPanel, it may take some time to get used to Dreamhost's control panel.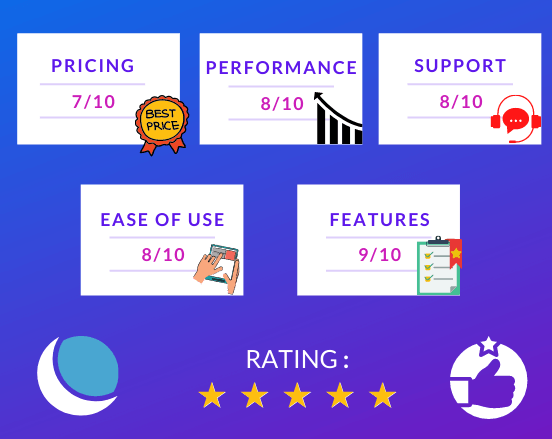 DreamHost is an independently owned hosting company and since it is not part of a larger group, you will not feel like you are just a paying customer. A reasonable price, solid support, and a very generous unlimited policy for storage and bandwidth is remarkably attractive to many.
However, if you're looking for professional features like integrated caching, pre-installed Git repositories, and staging areas, DreamHost lacks a bit here. But if you are looking for a cloud hosting company that is more concerned with your website on the bottom dollar then DreamHost is definitely worth a look.
5. A2 Hosting – Best for High Profile Projects
Started in 2001 in Michigan, A2 Hosting has been around for quite a bit now and since then it's growing and has in fact become one of the most popular hosting providers. Just like every other hosting provider, they too offer WordPress hosting, shared hosting, cloud hosting, virtual private server, reseller hosting, dedicated servers, and more.
The company has a strong focus on performance, fast web browsing, 20x times turbo server speed, and many other features.
You can choose from monthly, yearly, two-year, and three-year packages. If you choose a 3-year shared hosting plan, it will cost you around $2.99 a month whereas if you choose a single-month plan it will cost you $10.99 – HUGE DIFFERENCE. The user panel is fairly easy to use, but I've seen some rivals with smarter approaches, for example, Dreamhost and Hostinger.
You don't need to pay any additional cost for SSL certificates as they come included in all the hosting plans. A2 Hosting uses the latest PHP version which makes your website more fast and secure.
One major advantage of A2 Hosting is that the data centers are widely spread across the planet: specifically in the US, Europe, and Singapore. If you find any kind of problem with the service or need any kind of support, you can contact the A2 Hosting Help Center via chat, phone, or its ticketing system.
A2 Hosting PROs:
Free Site Migration Services – When you sign up with A2 Hosting, their experts will transfer your website from your existing provider without any hassle.

Money-Back Guarantee – Not satisfied with the service? No worries. A2 Hosting will give you a full refund within the first 30 days of purchase.

4 Server Locations – With 4 server locations on 3 different continents, It gives you faster global load speeds even if you host an International website.

Advanced Features – The higher plans of A2 Hosting come with advanced features such as server-side caching or system staging areas.

Windows-based servers – Many other competitors don't offer Windows-based servers but A2 Hosting does.
A2 Hosting Cons:
Uptime – Yes, the uptime of A2 Hosting has improved over the years, but there many other providers who provide better Uptime.

User Interface – The user interface is a bit outdated and cPanel is not easy to use for beginners. Don't worry if you're eager to purchase hosting from A2 hosting as there are various how-to videos and knowledge sources.
A2 Hosting is a premium product which means it is best suited for high-profile projects. If you're noticing that you're growing fast and your current web hosting provider just can't satisfy your website needs, then A2 Hosting will provide your website a better home.
If you currently have a small website that barely takes any space then don't even look at A2 Hosting, they pack way too much power for your small website. You can get similar performance at a low cost from Hostinger or Dreamhost.
A2 Hosting has nearly everything that you expect from a quality web host. Click below to get a maximum discount of up to 72% on A2 hosting plans.
6. InterServer – Best Hosting For Individual Bloggers
Based in New Jersey, InterServer is giving tough competition to its competitors since 1999. It has exponentially grown in the past 17 years and operates 2 data centers in New Jersey. InterServer is an affordable and cheap web hosting provider focused on high-quality customer service provided through multiple sources like phone, email, and live chat – 24*7 & 365 days a year.
Both plans of InterServer – shared hosting and WordPress hosting provide great value and performance to its users. The best thing I love about InterServer is their price lock guarantee which basically means that if their package price increases in the future then your account will not be charged a new price. Why is this a great feature? Well recently, providers like Siteground doubled their price which not only affected their new users but also existing users. This will definitely not happen with InterServer and their price lock guarantee.
As compared to other web hosting companies like Site Ground, InterServer offers cheap web hosting plans without compromising on any features that you may need. Their cheapest plan of $2.5 includes unlimited SSD storage space for your files, unlimited professional email accounts, an unlimited number of visitors a month, and a free SSL certificate.
Here's a special offer just for YOU to try InterServer. Use the code – MARKETINGSAVIOR.
InterServer PROs:
Inter-Insurance – If at any point your website gets messed up, hacked, or ruined in any other way, InterServer promises to investigate, restore, and even prevent further harm to your compromised website.

Free Security Tools – Many web hosts charge you for premium security features but InterServer's inter-insurance security is FREE. Extra marks to InterServer for this.

Free Website Migration – InterServer engineers will transfer all files from another web hosting provider (if any) to their servers at no additional cost.

Best Security System – InterServer has the most reputable security system to protect your website from any attack.

No Price Increase – Yes you read it right, there is no price increase on renewal except for some schemes.
InterServer CONs:
No Domain Name – Another downside is that InterServer does not include a domain name in their plan which means you will have to purchase it separately from InterServer itself or elsewhere.
With InterServer you will get a good set of features at a decent price, which can be billed every month while achieving an exceptionally amazing performance. They are not a super famous company, but they have their own data centers and people behind the company take extra care of customers like you and me than the profits.
InterServer also mentions that they are an honest company trying to have an unbiased approach by putting their customers first. They are an independent company and have built all their infrastructure completely from scratch. InterServer's shared hosting plan is best suited for small businesses and personal bloggers who want a cheap web hosting option with top-notch performance.
7. InMotion Hosting – For Big & Medium-Sized Companies
InMotion Hosting is one of the oldest web hosting companies around giving stiff competition to its rivals. Here is everything you need to know about InMotion Hosting before purchasing.
InMotion isn't a cheap hosting provider since the shared hosting plan costs $ 5.99 per month. This means that you will have to pay $ 215.64 for 3-year hosting but InMotion offers many additional features that are usually paid as part of their standard plans.
In general, the cheapest web hosting plan should work fine for 20,000 to 30,000 monthly visitors and you can scale from there. InMotion has incredible customer support like phone, email, and live chat. The response accuracy is average but the support time is quite fast. They have comprehensive guides and forums where others can help you or you can find answers to the most common problems.
InMotion PROs:
Free Zero-Downtime Migration – The InMotion team transfers your website files, cPanel information, domain records, and email information from another web hosting provider to their servers completely free.

Great for Business – InMotion has more features for enterprises and businesses than for a personal website. For example, you get free DDOS protection, a customer management tool to keep your small business online, a free marketing tool to start your marketing campaign.

Free Backup and Restore – This is one of the most important features of a web hosting plan. With InMotion Hosting, they will restore it once every 4 months for free and I have really taken advantage of it.

Customer Support – InMotion probably has the best customer support. When you deal with them, they try their best to resolve your queries as fast as possible.

Best for the USA – They have an incredibly sophisticated and well-maintained data center where they keep their servers to run a custom build operating system stack.
InMotion CONs:
Old School Interface – InMotion's interface looks a bit old school and I wish it had a smarter system for managing users and making backups.

Poor Performance – If you are looking for a site that has good performance then I would recommend going for Hostinger or Bluehost. InMotion's performance is below average.
With all of that taken into consideration should you go for InMotion web hosting?
If you can get over the fact that their control panel is a little bit clunky and old-looking, they are actually pretty good web hosts. With top-notch technology, InMotion uses SSD storage over HDD and have developed their own custom infrastructure known as an ultra stack to better optimize your websites for speed.
InMotion is an excellent choice for small to large businesses and enterprises rather than personal blogs. However, with the new addition of the light plan, they're also great for e-commerce especially if your customer base is from the United States.
8. GreenGeeks – Best for Bloggers and Small-Businesses
Founded by Trey Gardner in 2008, GreenGeeks hosts more than 300,000 websites so far with data centers in the US, Canada, and the Netherlands. GreenGeeks is a well-known brand in the WordPress hosting industry with blazing fast website performance, 24*7 support, and environmentally responsible platforms. They offer automatic 1-click WordPress installs, managed updates, enhanced security, free CDN, free site migration, and choice of more than 5 different data locations.
It is an amazing web hosting provider for bloggers and small businesses. Generally, their light plan will cost you $10.95 per month, but if you make a purchase from the link below, it will cost you just $2.49 a month. GreenGeeks has follows the latest technologies like SSD, the latest version of PHP, HTTP / 2 with excellent security features such as periodic scanning, automatic brute force detection, spam protection, SSL Secure Server, and password protection for your directories.
GreenGeeks not only provides quality service but is available at a very affordable price. The latest technology and inbuilt caching make their servers super load and reduce the loading time of websites hosted on their servers.
GreenGeeks PROs:
Eco-Friendly – GreenGeeks consumes renewable energy so that your website is green and healthy. If you choose them, then your website users might get encouraged and more people will take the same step as you took for protecting our mother nature.

Full Refund – They offer 30 days money-back guarantee on all the hosting plans i.e. even if you cancel your plan within 30 days for purchase then you will get your full refund for the hosting amount you paid.

Nightly Automatic Backups – You will get free nightly backups every day so that if any mishappening happens, you can easily restore your website data.
GreenGeeks CONs:
No Asian Data Centers – You won't find any data center of GreenGeeks located in Asia. You can go for it if your targeted audience isn't in Asia.

No Phone Support – The phone support is available but it is not available from midnight to 9 AM EST. If you have a problem in the early hours of the morning, you must use live chat or email support instead.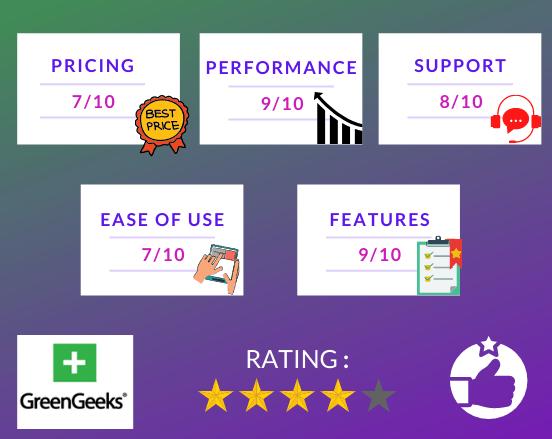 The web hosting industry has a huge impact on the environment. Every web hosting server produces 1390 pounds of CO2 every year. If you're concerned about your environmental impact then GreenGeeks is a good choice because of its 300% green commitment.
This could be a smart hosting choice for eco-warriors everywhere. If you're a beginner looking for a cheap web hosting provider with great speed and uptime then, GreenGeeks is a very solid option.
Your hosting service provider will either make or break your online business.
Choose wisely and make an informed decision. All the web hosting providers mentioned above are genuine and you can trust them blindfolded. 
Which hosting provider are you using and how is your experience with them? Tell me in the comments section.
Happy Hosting 🙂
FAQ Related to Web Hosting:
What is meant by Web Hosting?
Web hosting is a service where you can rent space on the Internet, fill it with your own content, and go live with the website. When you start your website, all files including images, text, and videos, have to be stored on a physical server, which is connected to the Internet. Web hosting allows you to set up a shop on the Internet and be visible to anyone in the world.
How many types of hosting are there?
There are 3 common types of web hosting services:Shared Hosting - This is a cheap web hosting where most websites reside and you share the features with other websites.VPS (Virtual Private Server) - This is like your own private residence which is large and gives you more control than shared hosting. Resources in VPS are not shared by anyone.Dedicated Servers - This hosting is more expensive than Shared Hosting and VPS but if your website receives a lot of traffic, then dedicated servers are your best bet.
Which website host is best?
Best Web Hosting Options to Host Your Website: Hostinger - Cheap & Reliable Web Hosting Option. HostGator – Best Web Hosting Provider for Startups. Bluehost – Officially Recommended by WordPress. DreamHost – Great Shared Web Hosting Plans. A2 Hosting – Best for High Profile Projects. InterServer – Best Hosting For Individual Bloggers.
Why Web hosting is required?
Web hosting is required because you need some space where you can actually store your files. Your website might be designed in PHP, ASP, node.js, plain HTML, simple CSS but it needs storage to store their files somewhere for which web hosting is necessary.
Disclosure: This content contains few affiliate links, which means if you purchase any hosting via our links you will help us fund this blog. No additional cost will be charged to you. Win-win for both of us, right?
Summary
Reviewer
Date
Reviewed Article
Best & Cheap Web Hosting Providers With Pros and Cons
Rating





Product Name
Price
Product Availability