There is no doubt in saying that there are many powerful SEO tools in the market such as Semrush. In fact, we at marketing savior use Semrush for all our SEO needs. But wait! That doesn't mean other tools are of no use. Today I am going to talk about one of the fantastic SEO Tool that I have discovered in recent times – Serpstat.
If you are one of the Readers who are not aware of this underrated tool and hearing this word for the first time. In this blog post, I am going to tell you the complete functionality of Serpstat, how it works and what it's for? Before moving forward, let me tell you that this Serpstat review is totally unbiased and I have made this review after using Serpstat for weeks.
What is Serpstat?
Serpstat is a comprehensive platform for search engine optimization which is designed to help businesses improve their search performance in major SEO areas specifically marketing, research analytics, content marketing, PPC, and more. Serpstat helps you to know how and who is ranking well in search engine result pages (SERPs) and how you can outrank them.
Using Serpstat Analytics, you are able to determine how your competitors are achieving success in the SERPs ranking by gaining the most recent information such as the amount spent on paid promotions. You can also dive into the keywords they are using for their campaigns. With all details in your hand, you can execute effective SEO campaigns, leave your competitors behind and drive your business towards success.
Benefits of Serpstat:
1. Get Details of Top 100 Results –
Serpstat doesn't only get the rank of the domain for the tracked keywords but all the details of the top 100 search results of that particular keyword. This enables users to gain insight into the exact rankings of all the top 100 domains for a keyword without having to create individual projects to monitor ranks or competitors.
2. Avail Historical Data of a Keyword Per City / Region –
With Serpstat, you can get data of a keyword as per the city or region you want to target. It will make keyword research easier for those who want to do local SEO for their website.
3. Backlink Analysis –
Backlink analysis is vital to any SEO effort. Serpstat shows you a backlink report of the competitor that includes a set of cores together with referring pages and domains. 
4. Discover Market Share of Domains –
Serpstat implements a unique algorithm that enables the system to discover the market share of all the domains on the top 100 search results for a specific keyword. This will allow SEO specialists to identify trends and feed falls in the domain visibility. 
5. Compare Your Website With Rivals –
With Serpstat, you will see how optimized your websites are and compare them to the level of optimization enjoyed by your rival's websites. This will help you to see what optimization you need to execute and what elements you need to discard.
6. Discover Your Website Issues –
You can easily spot errors on your site. This can help you to resolve all your site-related issues and your website will rank better in the SERPs.
How to Use Serpstat?

Firstly, you need to sign in and enter any domain, product name, keyword, or URL which you wish to search for. Then choose the location like I have chosen India as my location. After that click on search to see some magic.
In the image above, you can see the user interface in which the tool is telling you about the volume and keywords people are searching for. There are 256K keywords for images that I can target according to my need. There is also an amazing feature where you can see the graphical representation of the visibility trends for a year, along with top pages that are ranking for your targeted keyword.
There are really 5 main sections which include website analysis, keyword research, backlink analysis, rank tracker, site audit. You can see all these features in one single SEO tool.
Let's go deeper into SEO research. In this section, you will get a clearer outlook of the keywords, competitors, domain vs domain, subdomains, and top-ranking pages.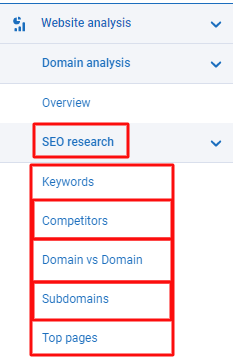 Competitor Research:
Starting with a competitors section where you can see relevant websites which have common keywords and common topics. For example, I need to find out competitors of www.neilpatel.com. Add the domain name in the search bar and the tool will fetch out all competitors of the domain.
Easily find out common keywords between you and your rivals. This tool also tells you that which keywords your competitors are ranking for but you aren't.
In the paid plan, you can also change the list of competitors by adding new ones or deleting the unwanted ones as per your requirement.
Keyword SEO Tool:
Besides researching for the competitors, you can also get a complete list of keywords. The list will show you the position of the domain in a search engine, organic traffic, keyword volume, cost per click (CPC), and competition in PPC. This can help you to easily trace down the keywords your rivals are ranking for. In the free plan, Serpstat will show you only the top 10 keywords. To unlock full features, I highly recommend you starting with the paid plan.
Domain VS Domain Analysis:
In the domain vs domain analysis section, you can compare your domain with your competitor's domain and find out where you stand in the crowd. For example, let's compare Neilpatel.com with Backlinko.com.
You can see how much share Neil Patel has covered as compared to Backlinko. This feature can be a life savior for many SEOs. If used wisely and smartly, you can easily outrank your competition and generate more sales for your business.
Analyze Top Pages of Domain: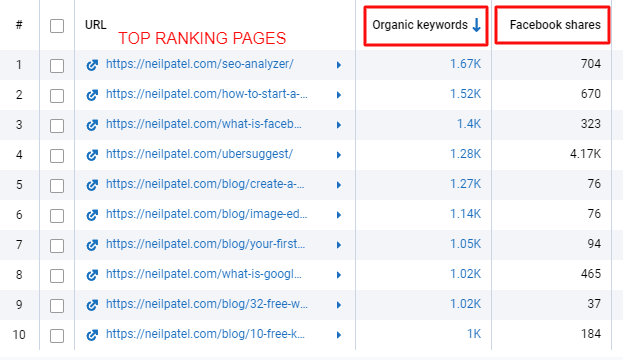 With Serpstat, you can easily find out which pages of a website are performing well and bringing traffic for them. It shows you the data of keywords that the page is ranking for with potential traffic and a total number of Facebook shares. It can easily help you to filter which type of content is being liked by the readers of your competition and you can create a piece around that.
Backlink Analysis:
Serpstat has made backlink analysis easy for beginners as well as experts. You just have to enter a domain and boom, all the backlinks of a domain are in front of you. Get the complete overview of a website along with referring domains, link domains, follow or no-follow links.
There is a separate section where you can see the graphical representation of the referring domains, unique backlink history, new and lost backlinks, and anchor text backlinks.
Serpstat Rank Tracking Tool:
This tool by Serpstat helps you to track keywords, competitors, and URLs. Let's have a look at the keyword rank tracking tool and see how it can help you?
Click on add new project and get access to global analysis of top 100 results for each keyword you want to monitor. You also have an option to divide keywords into groups and monitor how the positions of keywords are changing. Tracking the position of a keyword is one of the most important things in SEO.
Site Audit Tool:
A site audit is the technical SEO section when you can set up your projects. It provides you a detailed history of the comprehensive analysis of the issues in your site based on the hierarchy of priorities. The site audit tool consists of an audit summary, all issues in a website whether they are high priority or low priority, custom overview, and page audit.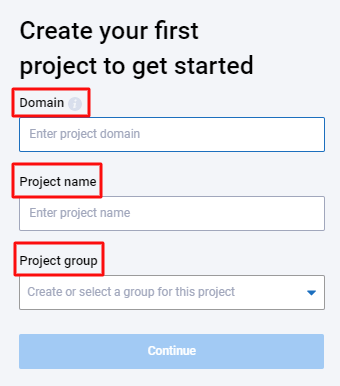 One best thing which I will touch on here is the custom overview. You can easily set up your site and train the crawler to visit all the sites that have a minimum issue and avoid the pages with high issues. It will help you to take out the best things from your rival's website and implement that to your website.
Serpstat Pricing:
One of the best things about Serpstat is that they have a very very low introductory plan with all the major features provided. Here are the 4 plans to choose from according to your needs:
Lite Plan (Best for Freelancers and SMB's) –
The lite plan of Serpstat will cost you $69 Per Month in which you'll get access to all the tools such as keyword and domain analysis, backlink analysis, site audit, rank tracking, and much more. You can get the lite plan for $55 per month at a 20% discount only if you purchase on an annual basis.
Standard Plan (Best for Marketing Agencies) –
The standard plan will cost you $149 per month in which you'll have full access to the tools of Serpstat and 3 additional users can be added. You can get the standard plan for $119 per month at a 20% discount only if you purchase on an annual basis.
Advanced Plan (Best For Big In-House Teams) –
The advanced plan will cost you $299 per month in which you'll have full access to the tools of Serpstat and 5 additional users can be added. You can get the advanced plan for $239 per month at a 20% discount only if you purchase on an annual basis.
Enterprise Plan (Best for Industry Leaders) –
The enterprise plan will cost you $499 per month in which you'll have full access to the tools of Serpstat and 7 additional users can be added. You can get the advanced plan for $399 per month at a 20% discount only if you purchase on an annual basis.
Who Should Use Serpstat?
Serpstat SEO tool is for those who want to run PPC campaigns, do keyword research, backlink analysis, site audit on a daily basis. Serpstat also has its own unique features which make them stand out in the competition. It is one of the cheapest SEO tools out there in the market with plans starting from $69 per month. You can get 20% OFF if you purchase the plan on an annual basis.
Conclusion: Serpstat Review – Is it the cheapest SEO Tool?
No doubt, there are many big names such as Semrush and Ahrefs in the industry but Serpstat is one of the tools you should look at if you are a blogger or agency. Yes, it is a cheap tool that is offering services at a competitive price. 
So after reading this Serpstat review, you should be on the front seat and sign up for a free trial using the link mentioned below. Trust me you won't be disappointed. It has all the features one marketer needs to perform SEO activities. 
Also, let me know in the comment section which SEO tool you are using for your daily SEO needs.
FAQ About Serpstat Review:
What is Serpstat?
Serpstat is an online SEO tool made for marketers that can help in performing activities like keyword research, website audit, rank tracking, backlink analysis, domain vs domain analysis. It is one of the most affordable SEO tools present in the market.
How can I contact Serpstat?
Yes, you can reach out to Serpstat via ticket support, phone support, or live chat.
What is the pricing of Serpstat?
Serpstat comes with 4 different plans which include lite, standard, advanced, and an enterprise plan. Lite plan starts with $69/month, Standard plan with $149/month, Advanced plan starts with $299/month and Enterprise plan starts with $499/month.
Is Serpstat academy free?
Yes, definitely. Serpstat academy is free where you can learn how to do a site audit, how to perform keyword research, and much more.
Disclosure: This content contains few affiliate links, which means if you purchase any hosting via our links you will help us fund this blog. No additional cost will be charged to you. Win-win for both of us, right?
Summary
Reviewer
Date
Reviewed Article
Serpstat Review | Affordable SEO Tool for Agencies & Bloggers?
Rating





Product Name
Price
Product Availability