Semrush or Similarweb – Unable to decide which is the right SEO and Web Analytics Tool that will help you dominate the search presence? Well, your search for the best online marketing tool ends here. 
Both Semrush and Similarweb are excellent marketing tools and provides detailed insights about the website performance, backlinks and competitive analysis. But when compared – one is surely better than the other. So, let's see their features and compare them one by one to find out the winner.
Quick Features Comparison
| Features | Semrush | Similarweb |
| --- | --- | --- |
| Traffic Analytics | | |
| Competitive Research | | |
| Social Media Toolkit | | |
| Keyword Overview | | |
| SEO Audit | | |
Semrush – Quick Overview
Semrush is heavily popular in the marketing community. Known as an award-winning, leading and widely used SEO tool, Semrush helps you to level up your marketing game and achieve a higher ranking in SERPs.
With a large user base of over 7 million users, Semrush is power-packed with more than 50 tools including backlink audit, keyword research, competitor analysis and much more.
It lets you deep audit your website and provides a detailed report of do's and don'ts that you can implement right away and improve your website performance.
Not only this, with Semrush's content marketing tool you can find high-traffic content ideas, audit your content, monitor your brand, track posts and get an SEO-friendly writing assistant. Isn't it cool?
A marketing intelligence platform, Similarweb provides you with data about your customer engagements including no. of monthly visitors, the average visit duration, no. of pages visited per session.
It also tells you about the source of your website traffic i.e. whether it is from search, direct, social or display traffic, the referring sites, and top destinations. Using these data metrics, you can compare your site performance with your competitors. 
Similarweb doesn't help you plan your marketing strategy but rather, it helps you to collect data and do research by measuring your website traffic with your competitors.
Semrush vs Similarweb: In-Depth Features Comparison
It is important to analyze your website domain before making the SEO strategy and here is where Domain Analysis comes into play. It is the very first step when you start optimizing your website for SEO.
When a website is fairly new, it will have no domain data but you can analyze your competitor's domain data to make a strategy for yourself.
If your website is old, you can audit your domain, compare it with your competitors, find where you were missing out, and build strategies to improve your domain health and thus rank higher in SERPs.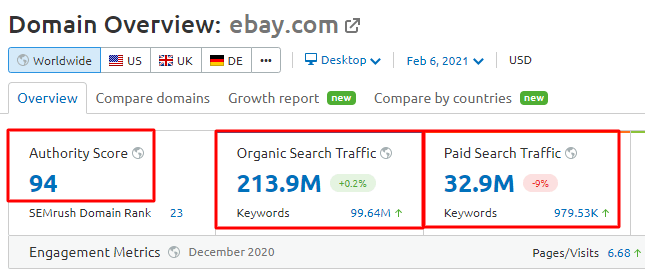 Using Semrush Domain Overview Tool, you can get detailed domain analytics data of your's or your competitor's website including website authority score, the total number of website visitors per month, backlinks, ranking keywords, anchor text, top-performing keywords, display advertising stats and much more.
Semrush has a very comprehensive 'Competitive Positioning Map' which gives you a visual representation of your website ranking vs your competitors. It also provides you with 'data breakdown by country' to easily understand in which location the site is performing well.
That's not all. Semrush also has tons of other metrics that will help you better understand your domain and give you clear directions on how you can outrank your competitors. Give a try to the Semrush Domain Overview tool.

With domain/website overview of Similarweb, you can look into metrics like traffic & engagement, geography, demographics, audience interests, and traffic sources including referrals, search, social, display, and video ads in a custom date range like 3 months, 6 months, or 12 months.
You can also filter out which page of the website is performing well. Give a try to Similarweb.
Which is a better Domain Analysis Tool – Semrush or Similarweb?
In Domain Analysis, Semrush overtakes Similarweb because Semrush provides you in-depth analysis with way more useful data and metrics than Similarweb.
Keyword Research is the most crucial part of SEO. Whatever maybe your business niche, a well-planned keyword strategy will get your website targeted traffic and a higher ranking on search engines.
If you don't have it, it's as good as having 'no website at all.' Let's compare – which is a better keyword tool – Semrush or Similarweb?
What all metrics do you consider while researching for the keyword? Cost per click (CPC), keyword difficulty, advertising competition level, monthly search volume – Right?
Well, Semrush has much more to offer. 
Surpassing all its competitors, Semrush is known to have the largest keyword database of around 20 BILLION keywords in the entire market. That's Huge, Right?
Along with the above-mentioned metrics, it provides you with:
Global volume data
The number of results on SERP
Keywords trend
Keyword variations
Related keywords
Questions
Keyword ad history and a lot more.
To get keyword suggestions related to your niche or industry, use Semrush's Keyword Magic Tool, and trust me you won't be disappointed. The tool will do its magic and bring a list of keywords that are worth including in your content.
Here is a detailed guide on how to do keyword research with Semrush?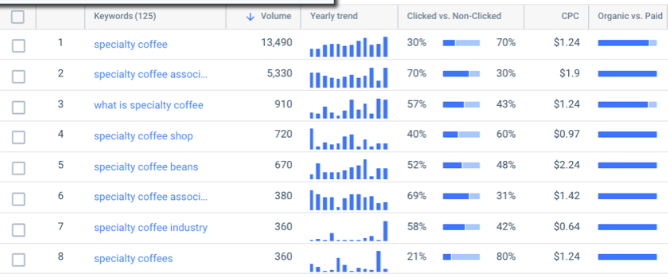 Enter the website in SimilarWeb and you'll get a list of keywords they're ranking along with keyword traffic share, trending keywords, keywords by country, organic vs paid keywords.
But, It will only show you 5-6 keywords in the FREE plan of Similarweb. The tool also shows the keyword's increasing/decreasing search trend that will help you make an informed keyword strategy.
Which is a better Keyword Research Tool – Semrush or Similarweb?
Semrush and Similarweb both are great for keyword research. But if you want reliable, in-depth and comprehensive keyword data metrics then Semrush is the one to go for. Semrush has the largest keyword database, easy-to-navigate UI and everything you need to outrank your competitors in one place.
You cannot win over your competitors unless you know about them inside out. So, it is important to dig into your competitors, know what they are doing and what is getting them results before planning your own SEO and Paid Ads strategy.
Semrush has a dedicated competitive research toolkit that allows you to do organic research, find keyword gaps, backlink analytics, backlink gap, advertising, content & PR, and social media.
Semrush has also introduced .Trends Tool which includes Traffic Analytics and Market Explorer.
With the Traffic analytics tool, you can look into various metrics like the number of website visitors, desktop vs mobile ratio, scan different traffic sources and look at the countries from where the traffic is coming.
If you want a quick overview of your online competitors then Market Explorer is for you. Watch out for industry leaders in your domain, how they are generating traffic, discover general market trends, and much more. Try your hands-on competitive research toolkit of Semrush.
Similarweb doesn't have a dedicated competitive research toolkit like Semrush but it can help you analyze a bunch of essential metrics like average visit duration of a visitor, bounce rate, traffic sorted by countries, source of traffic, paid vs organic traffic, etc.
The social section of Similarweb breaks down the traffic you receive from different social media channels i.e. it tells you which social media platform is sending you the most traffic. Although, the Free plan of Similarweb gives very limited access to its features. Give Similarweb a try.
Which is a better Competitive Research Tool – Semrush or Similarweb?
While Semrush has an extensive competitor research toolkit, Similarweb only gives you an outer overview and is not much detailed. I'll prefer Semrush over Similarweb.
If your brand has a social media presence then 'Social Media Tools' are really convenient to monitor your brand's social media growth with your competitors.
Let's dive in to see how you can manage your social media with Semrush and Similarweb.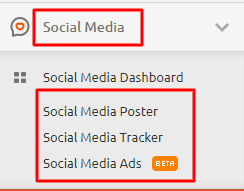 The social media toolkit by Semrush allows you to strategize an effective social media plan by:
Automating content scheduling & posting
Discovers the top content as per the niche
Boost Facebook posts directly from the Semrush platform
Analyze your competitor's social strategy
Manage social media content
Create and manage Facebook and Instagram ads
Semrush has three powerful tools – social media poster, social media tracker, and social media ads. It can track social media data of 5 channels including Facebook, Twitter, Instagram, Youtube, and LinkedIn.
Semrush also scrapes the best performing hashtags for you and compares your content and engagements with multiple competitors in one go. The tool not only helps you beat your rivals on search engines but also keeps you one step ahead in the social media game. Try the Social media toolkit by Semrush for free.
Sadly Similarweb doesn't have a social media tracker tool. You can only view the traffic count that each social media platform is sending you. 
Which is better Social Media Tracker – Semrush or Similarweb?
Undoubtedly, Semrush.
Apart from the above features, Semrush and Similarweb have exceptional tools that make them stand out from each other. Let's look into their individual features before getting on to a final decision.
Keep track of your ranking performance with the position tracking tool of Semrush. Get estimates on your website's visibility index, estimated website traffic, average ranking position of your keywords, top keywords, competition map and much more.
It will also show you a complete list of positive and negative keywords i.e. keywords that have increased/dropped in ranking and thus affecting your website position on SERP.
Semrush also sends a daily report via email that keeps you updated with all these metrics and changes your website goes through.
Semrush gives you two ways through which you can check your backlinks – Backlink Analytics and Backlink Audit.
Using Backlink Analytics Tool, analyze all the external links that point to your domain and the anchor text used for each. Semrush displays your's and your competitor's backlink data very clearly including the gained and lost backlinks which further helps you to strategize your SEO.
Use the Backlink Audit tool to list out all the good/bad links your website has. Semrush will compile a list of all spammy links your website has. You can then scrutinize them and submit them to Google as a 'disavow' file.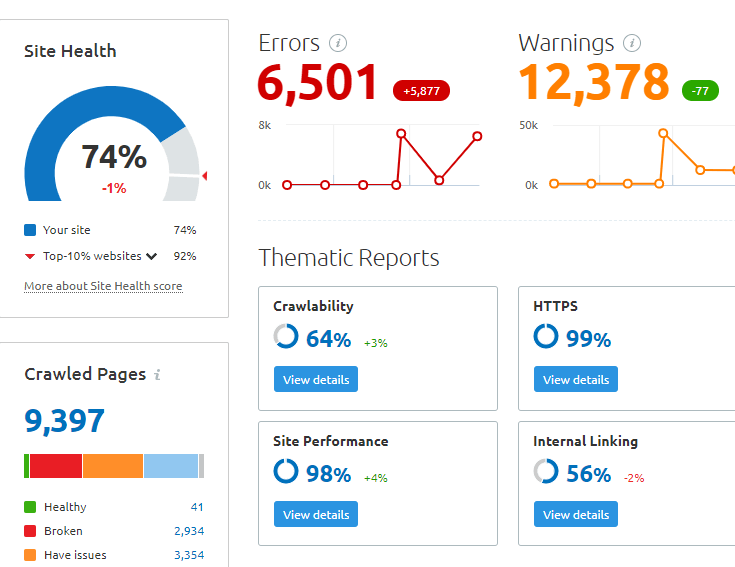 Site Audit Tool gives you in-depth information on your website's technical SEO including site health errors, warnings and notices.
In Thematic Reports, you'll see data related to crawlability, internal linkings, markups, Https, Core web vitals and site performance. It also lists the top issues of your website. Once resolved, it will then show the green mark.
The Keyword Gap tool of Semrush lets you analyze your keywords with your top 5 competitors. Enter the domains or URLs (up to 5) and the tool will fetch you all the keywords that those websites rank for.
You can mix and match through keyword types i.e. organic, paid search, PLA to see the overlapping keywords and where you can improve. This way you can create a master keyword list and use it to outrank your competitors.
Planning to write SEO-friendly content? Then you MUST use the SEO Content Template tool of Semrush. This is how it works –
Submit the list of keywords that you plan to target in your content.
Semrush will analyze the top ten ranking pages for that keyword and will recommend what content you should create.
It lists the semantic keywords, average readability score, recommended text length, domains through which you can gain backlinks and basic SEO recommendations like Title, Tags, H1, etc. Not only this, but it also shows a complete list of how your competitors are using those keywords to rank on page one of Google.
The best part – you can check your content's SEO-friendliness in real-time using 'Real-Time Content Checker which will tell you your content's originality, tone of voice, SEO and readability.
1. Report Generation:
Use the report generator to analyze metrics such as monthly organic search traffic by country and device, traffic sources, referring domains, and keywords. Download your report in Powerpoint Excel or PDF.
2. Analyze Website Trends:
Uncover the traffic sources of your competitors using Similarweb. Analyze their web traffic data for a minimum time period of 28 days, create your own strategy and dominate the search results.
3. Custom Dashboard Sharing:
Collaborate and share your custom dashboard with your colleagues for enhanced alignment within and across teams. You can either share the dashboard with all the users in one Similarweb account or with just specific colleagues.
Pricing Compared – Semrush vs Similarweb
Both Semrush and Similarweb are freemium but their free versions provide very limited features. Semrush does offer a free trial of their Pro and Guru plan so that users can get to know about the real powers of Semrush. Whereas Similarweb doesn't offer a free trial. 
Pricing Details of Semrush –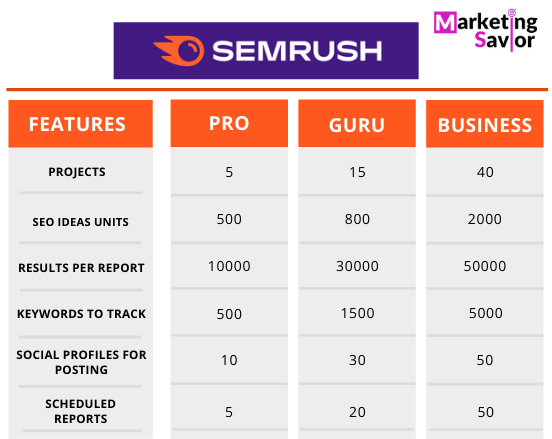 There are 3 different plans offered by Semrush –
Pro Plan ( Best for Freelancers & Startups ) – 
Usual Price – $119.95 Per Month.
Exclusive 16% Discount Price – $99.95 Per Month (Billed Annually)
Guru Plan ( Best for SMB & Marketing Agencies ) –
Usual Price – $229.95 Per Month.
Exclusive 16% Discount Price – $191.62 Per Month (Billed Annually)
Business Plan ( Best for eCommerce Projects & Big Agencies ) –
Usual Price – $449.95 Per Month.
Exclusive 16% Discount Price – $374.95 Per Month (Billed Annually)
Explore the in-detailed features of each plan by Clicking Here.
Pricing Details of Similarweb –
Similarweb hasn't disclosed their pricing plan on their website. If you are considering buying Similarweb, you can contact their sales team. 
Which Online Marketing Tool is Worth the Price – Semrush or Similarweb?
The starting price of Semrush might not be affordable for everyone but the quality of features and tools they offer at a price of $119.95 is incredible and value for money. Similarweb's pricing is not transparent enough.
Semrush vs Similarweb – We Have a Clear Winner
After an in-depth comparison analysis with features like Domain Analysis, Keyword Research, Competitive Research, Social Media Tools, Backlink Analysis, Position Tracking, etc, we can confidently say that SEMRUSH wins the battle.
No hard feelings for Similarweb but Semrush has way more features at an affordable price that can help marketers win over their online marketing game.
The LinkedIn Poll – Semrush or Similarweb?
We ran a poll on LinkedIn asking all the beginners, to-be marketers and marketing professionals to vote for their favorite SEO and traffic analytics tool.
The results were loud and clear!
Similarweb – 28 Votes | Semrush – 187 Votes
215 people participated in the poll out of which only 28 people voted for Similarweb. 187 people voted Semrush as the best SEO and traffic analytics tool.
Read What Marketing Professionals on LinkedIn Say –
"Very simple Semrush because it offers a comprehensive traffic analytics suite for online visibility, SEO, PPC, and social media. In contrast, SimilarWeb is focused solely on website statistics"
"I would recommend SEMrush because it helps you find your competitors and their best organic and paid keywords, monitor ad copies and landing pages of your competitors in real-time, get an overview of your competitors' PPC strategies, target the exact audience with audience insights, perform a deep backlink audit, find the right keywords for your SEO and PPC campaigns, optimize your content for your target keywords, peek into the traffic analytics of any website, schedule your social media posts and track their performance"
"SEMrush is definitely the best choice. There are also other tools you can explore for SEO like, SurferSEO and Ahrefs, as well as Google Analytics, and Google webdev tools."
"If you want choose between semrush and similarweb then definitely you should go for semrush as its quite indepth and worth your penny, apart from this Alexa is good too, check once."
"Similiarweb is more of competetive analysis for a prospect. Semrush can be used more for ongoing campaign or tripwire offer or anyway throughout the keyword funnel optimization process."
Why Choose Semrush over Similarweb?
1. All-in-One Platform –
Semrush offers a complete online marketing toolkit with more than 50 tools (including SEO, PPC, Social Media, Content, Competitor Analysis) wrapped in one single platform.
This way you can focus on your business whereas Semrush will give you timely actionable tips that you can implement and level up your online presence.
On the other hand, Similarweb will only provide you with web analytics data that you might not know what to do with unless you are a marketing expert.
2. Stay on Top with SEO –
Advanced SEO features of Semrush will help you stay one step ahead of your competitors. Similarweb only provides you with basic web data insights and no in-depth dedicated tools for keyword research, backlink analysis, SEO audit and Social media.
3. Reliable Data –
Semrush has a vast database that provides you with no bullshit only high-quality accurate data. 20 Billion keywords scraped from 142 databases of different countries and backlink database of more than 40 Trillion backlinks. Check out Data for yourself by clicking here!
Similarweb, on the other hand, has data accuracy only for large businesses and not for small-mid size websites.
4. Affordable & Competitive Pricing –
Doesn't matter if you own a small business or a large corporation because Semrush has transparent plans for literally everyone. Choose a plan that suits your business needs at a nominal price.
On contrary, Similarweb's pricing plan is not known publicly. To get their pricing, you'll need to contact their sales team.
5. Trusted by World's Leading Marketers –
14 times awarded as best SEO software suite international, Semrush is chosen and trusted by the world's top-most marketing gurus and Fortune 500 companies. If they can trust Semrush, so can we.
Bonus Tip: How You Can Get Semrush Free Trial?
If you are a freelancer, startup or blogger and want to get extensive website insights, then you must try the Semrush PRO plan.
For grabbing 7 days free trial of the Semrush PRO plan. Submit the required debit/credit card details. Semrush will verify if your details are correct by deducting $1 and refund you back at the same time.
Voila! You've unlocked the access to Semrush's PRO plan that too for free.
Detailed Guide on How to Activate Semrush Free Trial?
Instead of purchasing the PRO plan directly, I'll advise you to try it for free first. By doing this, you can explore the features of Semrush and then make an informed decision. If it doesn't meet your expectations, you can cancel the subscription anytime.
Don't wait. The power is in your hands. Give Semrush a try NOW!
Final Words on Semrush vs Similarweb: Which Tool is Best For You?
If you are looking for a tool that integrates multiple services like Social Media, SEO, Content Marketing, Listing Management, and Advertisements – all in one place then Semrush is made for you. No doubt about that!
If you just want to look into metrics such as average time duration on site, major traffic sources like social media, direct, search engine, or any other source then Similarweb is the way.
Think before you go for a pro plan of Similarweb as almost all required features are available in the free plan until and unless you have a good hefty budget to spend on! 
FAQ Related to Semrush and Similarweb:
How much is Semrush Per Month?
Semrush offers 3 plans to their users: Pro, Guru and Business. The pro plan of Semrush starts with $119.95 per month. The guru plan of Semrush starts with $229.95 per month. Business plan for Semrush starts with $449.95 per month.
Why Semrush is the best SEO Tool?
Semrush is the best SEO tool present in the market because feautres offered by this tool are unbeatable. Not only features but Semrush tool is also value for money.
Is Similarweb Worth?
Similarweb has not declared their pricing publicly. To know about the pricing of Similarweb, you need to contact their sales team.
Does Similarweb include app traffic?
Yes Similarweb can also show you app data. in fact, you can watch out your competitors app data with Similarweb.
Summary
Reviewer
Date
Reviewed Article
Rating





Product Name
Price
Product Availability