Quick question – How would you measure the success of your blog?
Probably via MORE visitors and engagements, right?
No matter how valuable your content is, your website is as good as NOTHING if it doesn't receive visitor traffic. 
So that takes us to the most important part – 'How to Increase Quantity (with Quality) Traffic' which will bring you a million-dollar business?
Well, all you need is this ULTIMATE MARKETING tool.
When I say ULTIMATE, Semrush is what I mean. World-renowned and every marketer's first choice because it's that reliable and result-driven.
With the 2020 major update, Semrush (earlier SEMrush – known as a popular SEO tool) has transformed into a full-fledged marketing tool packed with powerful features that will sky-rocket your marketing game.
Let's dive into this detailed Semrush review.
P.S. – Explore the power-packed features of the Best SEO and Keyword Research Tool with Semrush Free Trial.
Exclusive Semrush Free Trial
| | |
| --- | --- |
| | About Semrush |
| SUPPORT: | Knowledge Base, Call Support & Email Support |
| FEATURES: | Keyword research, On-Page SEO, Competitor Analysis, Content Marketing, Local SEO, Link Building, Paid Advertising, Paid Advertising, PPC Keyword Research |
| SEMRUSH PLANS: | Pro, Guru and Business Plan |
| SEMRUSH PRICING: | Pro Plan @ $99.95 (17% OFF) | Guru Plan @ $191.62 (17% OFF) | Business Plan @ $374.95 (17% OFF) |
| FREE TRIAL: | Activate Free Trial | Use Semrush for Free |
| REVIEW: | Detailed Semrush Review |
Semrush uh! Why so hyped?
Loved by 7 Million marketers worldwide and trusted by the world's leading brands, Semrush is the go-to marketing tool of nearly 45% of Fortune 500 companies. It helps you improve your online visibility by giving complete access to the world's largest database of 20 billion keywords, 310 million ads and 17 billion URLs crawled per day. 
Want to grow your organic traffic? Need ideas to create content that ranks? Want to spy on your competitor's marketing strategy? Want to manage your PPC campaign or create the most engaging social media strategy? Semrush has it all aka a one-stop-manage-all platform. 
Let's walk through Semrush and explore its new updates to learn how it can help you dominate your niche online.
Signed up for a Semrush free trial yet? Hurry, grab it now.
Latest Semrush Updates 2021
After some great updates in 2020, Semrush is now becoming more bullish on updating its platform so that users can access the tool easily and perform quick audits.
Below are recent updates of Semrush till July 2021:
In June 2021, Semrush launched the fastest backlink checker on the market.
Semrush backlink checker now works with new data collection methodology that dramatically increases how fast they detect and report new links obtained by a website. 
The reporting tool of Semrush now makes it super easy to create PDFs from scratch. Recently, 3 keyword gap widgets have been added in my report under keyword analytics section.
You can add upto 5 domains and filter it accordingly. Now comparing your website with your competitor is even faster now.
Semrush expanded the way they presented core web vitals report as now we can analyze 10 pages per audit.
Choose which 10 pages would you like to beanalyzed in the site audit report.
SEO Toolkit – Key Updates
Targeting the right keywords is of utmost importance to attract quality traffic to your website. The Semrush Keyword overview tool is a perfect way to get started. 
Type in your keyword and hit enter. You'll be presented with similar keywords, long-tail keywords along with their search volume, cost per click (CPC), keyword difficulty, global volume, results on SERP, and trends which will help you influence your keyword targeting decisions.
Semrush will also put forward the domains that currently rank for those keywords. If Semrush was entirely just for the keyword research, I would still pay the same price for it because it's that helpful.
Smartly use data and strategy to build your keyword list (& create content around those keywords) so that whenever a user enters the key term on SERPs, you pop up. Doing this over and over can help you in building credibility, growing your audience, and climbing the rankings.
Keyword Global Volume Metric

– Along with keyword search volume, now you can also see the global volume metric i.e. search volume of the particular keyword across the globe. Not just this, you can also see the countries where that keyword is searched the most.

SERP Competitive Analysis

– Scrape out the top 100 competitors ranking for that keyword along with metrics such as backlinks, referring domains, search traffic. You can find this under the head SERP analysis.

Most Searched Questions

– Now you can find and write answers to the most searched questions related to a particular keyword using the

Keyword overview tool

by Semrush. This update has my heart. Thanks, Semrush for this update 🙂

Bulk Keyword Analysis

– Analyze up to 100 keywords at a time using a bulk analysis tool.
You cannot win the market without analyzing your competitors. With Semrush's domain overview, get an overall summary of your competitor's website performance analytics. This portal is exactly where you want to begin analyzing your rival because you can see both paid and organic traffic estimations that give you a clear picture of their domain's performance.
Use charts to understand their marketing efforts and what regions they target. If you are not researching your competitor's domain, then you are missing out on a great opportunity to gain new traffic and maintain the current flow of visitors.
Domain overview report lists all the metrics such as organic search traffic, authority score, paid search traffic, backlinks, and display advertising. Semrush data spans throughout the globe allowing you to uncover your competitor's online marketing strategy.
The domain overview report is easy to access and exports a ton of Semrush data all in one place. You can export the report in PDF using the button located in the top right or you can use small report snapshots to complete other actions such as viewing the full report, exporting to CSV or XLS, and even build pre-made charts for your client's report. This wraps up the domain overview feature by Semrush.
What's NEW in Domain Overview Tool by Semrush? 
Global Level Domain Growth – Can you see a domain's growth trend on a global level? Yes, Semrush has answered this with their latest update where you can watch out from where the rival is getting traffic and you are missing out.

Sub Level Analysis – Don't want to watch the report for a whole website? Relax! Now you can get a specific subdomain and subfolder level analysis.

Compare Your Competitors – Comparing every metric of your competitor with yours individually is really a tedious task. Semrush makes it easy as it allows you to compare your domain with up to 5 competitors at a time and generate reports within seconds by looking into important metrics such as backlinks, organic traffic, paid traffic. 
Competition analysis is now easy peezy lemon squeezy with Semrush. Yay!
Outrank your nearest competitors using Keyword Gap Tool by Semrush. Identify the potential low areas and work on creating content where you are completely missing opportunities. 
For example – If your competitor has something which is constantly getting them traffic and you have never built content around that idea, then it's a catch. Create 3x better content around that topic.
Keyword Gap Tool will also create a visual chart of the breakdown of keyword overlap with your competitors. Ever tried Semrush before? Sign up for an account now to start your free trial.
Competitor's Content Analysis – Compare and find out hidden opportunities that you were missing otherwise to create content whether it's organic or paid search.

Keyword Groupings –  Filter keywords using 'top' or 'by volume' or group the keywords by missing, shared, unique, strong, or weak for better analysis.
Backlinks are the backbone of SEO and the backlink analytics tool by Semrush provides you with clever link-building ideas by fetching the backlink data of your competitors, analyze their value & impact on a domain.
Simply enter a domain name in the search bar and hit enter. It will get you statistical data such as authority score, referring domains, top anchor text, and top countries. Pay undivided attention to these metrics – the higher these metrics, the more weightage backlinks have.
Use the diagram to determine new and lost backlinks of your competitors:
Competitor's behavior in link-building;

Recently acquired 

new links 
Quality backlinks lost by your competitor.
See the type, follow / no follow, sponsored features, TLD region, and countries as well as the fragmentation behind the most popular anchor texts.
The backlink analytics tool will portray link-building ideas that will help you to increase your domain authority. Practice makes a man perfect, so don't hesitate to test the various functions of backlink analytics reports.
What's NEW in Backlink Analytics Tool by Semrush? 
Find and Replace – Find broken backlinks of your website with ease and replace the link with your targeted URL.

More advanced and accurate data

Option to integrate your Google Analytics with Semrush account to get more enhanced reports.
The Site audit tool will analyze your website's technical and on-page issues so that you can improve your website's health hassle-free. It gives you a crawl limit of 20,000 pages in a single go with an option to choose a user agent to crawl your site which can be either desktop or mobile.
Inside the site audit report, you'll see the total score metrics that reflect the density of your website's problem. There are mainly 3 types of issues that prevent your website from getting high rankings or cause a bad user experience. The types are grouped by their impact on the website's health – errors, warnings, and notices. Errors should be your first priority because these affect your SEO efforts the most.
Site audit SEO tool allows you to define the issues to be fixed and see your progress. You get an option to hide issues you've fixed, or mark them irrelevant so you can focus on the main issues. Integrate your Google Analytics with Semrush to get more enhanced results for your top-performing pages.
The On-page SEO audit report includes meta description, title, H1 tag issues, image-related issues, links with a no-follow attribute, sitemap, and robots.txt errors. In brief, check over 60 issues using the site audit tool including your website's technical and on-page issues. Get weekly email notifications to stay informed of your progress. 
A new markups report for getting a quick overview of errors so that you can enhance your SERP rankings.

New site improvement points were added to get more powerful and stronger reports.
How often does Semrush Update?
Semrush usually updates its data daily within 24-48 hours. Semrush displays when your data was last updated by the system in the 'Last Update' tab where you select your language and location.
In position tracking, Semrush tracks daily results for the first 60 days. Then, after 60 days, Semrush displays position data using weekly points, which is by default on Wednesday. The weekly information is tracked for 140 weeks.
Please note – You cannot schedule your updates, they are automatic.
Content Marketing Toolkit – Key Updates
Content Marketing Toolkit developed by Semrush is a multi-use tool to assist users like you and me in all areas of content marketing including topic research, content template, SEO content writing assistant, brand monitoring, post tracking, and content audit. Content marketing tools take care of the research and technical part of online content creation and optimization so that we can sit back and relax. You can test the Semrush content marketing toolkit online for free worth $119.95.
Measure the effectiveness of your website's content using the Content Audit Tool. This will help you to define how well is your website content, is your content engaging enough for readers, and whether it is search engine friendly. Isn't that great? You can get free 7-day access to the content marketplace of Semrush.
Analyze and measure the performance of your article or blog using the Post Tracking tool. It will give you a clear picture of how your post is performing and is it worth the investment. The metrics under post tracking include referral traffic, keywords, shares, backlinks, and estimated reach.
Brand monitoring allows you to track the daily mentions of any keyword related to your business across the internet. It can be used to track your brand's reputation online. It also enables you to identify brands that are mentioning your competitors and thus you can replicate the same by reaching them out.
Identify if your content is SEO friendly or not using SEO writing assistant. It gives you an instant analysis of your article. SEO Writing Assistant tool is also available as a WordPress plugin. You can integrate this tool with google doc and while writing all-important SEO metrics will be shown to you.
Based on guidance designed to bring you traffic, the SEO content template tool will guide you in creating SEO-friendly pieces of content. It allows you to keep a check on important metrics while writing content such as the length and readability of your article.
Topic Research is another helpful digital marketing tool brought to you by Semrush that essentially outlines the topics that will resonate with your audience regardless of your niche. The Topic Research tool is a great way to figure out what sort of content you should prioritize in your content marketing strategy.
Content Marketplace – A newly introduced content marketplace where you can order high-quality content delivered by professionals.

ImpactHero – Specially designed for content marketing teams, ImpactHero helps you identify your high-performing content and get suggestions to improve old content.
Competitive Research Toolkit – Key Updates
Uncover your competitor's marketing strategy and tactics using Competitive Research Toolkit. Stay a step ahead of your competitor or make a tactical decision to improve your performance by exploring your rival's marketing strategy from every angle – SEO, Advertising, Content, PR as well as Social media. Let's look at the 2 main SEO tools under the competitive research toolkit.
This report provides you traffic data based on clickstream data of more than 200 million real users and their browsing history. In the overview tab, you'll see metrics which you can only find in Google Analytics like visits, unique visitors, bounce rate, average visit duration.
These reports can even be broken down by traffic sources from direct, search, paid, referral, and social. Also, get the information about the location and whether the source originated from a mobile phone or a desktop.
Market explorer compares your website to the overall market trends and how much of the market share does the domain has. If you are new in your niche or industry then market explorer can help you in knowing who are game-changers, market leaders, niche players, and established players.
Enhanced traffic analytics algorithm to give more specific and accurate results.

With the new audience insights report in the traffic analytics tool, you can now look at the audience of competitors that overlaps with you.

Market Explorer is a new SEO tool introduced by Semrush. It gives you an overview of existing online competitors and their present market share.
Social Media Marketing Toolkit – Key Updates
Semrush is not only about SEO & PPC but there is a toolkit for people who are interested in social media. Social Media Toolkit is a social profile monitoring platform that allows you to compare your progress on social media with your competitors.
Whether you are a social media manager or in public relations or brand management, social media toolkit will enhance your marketing game. Semrush tracks data in 6 social media channels which include Facebook, Twitter, LinkedIn, Instagram, Pinterest, Youtube, and Google My Business.
You can also check out the top-performing hashtags that are trending on Facebook and Twitter used by your competition. Let's have a look at the tools in the social media toolkit offered by Semrush.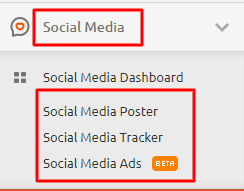 Automate and manage your social media posting with the option of scheduling posts across various social media channels. Watch out when your audience is most active so that you can make sure your audience can see the content. Social media poster is a very useful tool to manage your content and analyze the results of your campaign.
Social media tracker is here to keep track of your and your competitor's content. You can have a look at general social media metrics such as audience, activity, and engagement. Uncover the social media strategy of your opponents and analyze on which channel they are betting. Compare, re-iterate and get fruitful results for yourself.
This feature is newly introduced by Semrush. Now you can run and manage your social media ad campaigns from one tool. You can run and optimize ads currently in 2 social media channels – Facebook and Instagram. Track your ads that are performing low and optimize them to get desired results.
New social media analytics tool which shows your growth in followers, reach, and engagement on Facebook and Instagram.

Launch your social media ad campaigns with the new social media ads tool and get the best results from your ad spent.
New Pricing Details of Semrush –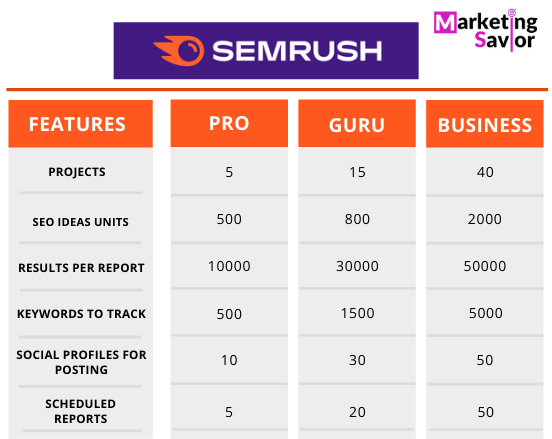 There are 3 different plans offered by Semrush –
Pro Plan ( Best for Freelancers & Startups ) – 
$119.95 Per Month which you can get at an exclusive 16% Discount for $99.95 Per Month (Billed Annually)
Guru Plan ( Best for SMB & Marketing Agencies ) –
$229.95 Per Month which you can get at an exclusive 16% Discount for $191.92 Per Month (Billed Annually)
Business Plan ( Best for eCommerce Projects & Big Agencies ) –
$449.95 Per Month which you can be your best bet at an exclusive 16% Discount for $374.95 Per Month (Billed Annually)
Check Out the Features of Each Plan in Detail by Clicking the link below.
How to Use Semrush for Free?
Semrush offers 3 plans:
Pro Plan ( Best for Freelancers, Startups, and Bloggers ) 
Guru Plan ( Best for SMB & Marketing Agencies )
Business Plan ( Best for eCommerce Projects & Big Agencies )
The pro plan is best suitable for freelancers, startups, and bloggers. So if you're trying this tool then I'll suggest you go with the Pro plan first and get the most out of Semrush. If you want to get a free trial click here and start using Semrush free for 7 days. But in this case, you'll need a debit/credit card and they will charge you $1 which is refunded back to you immediately. This is done just for verification purposes.
I'll suggest going for a 7-day free trial because you will get access to all the features of Semrush that too without any cost. If you don't want to get charged for the pro plan, discontinue the service before the end of a free trial, and here you go. You have easily availed Semrush services for free.
The all-time free trial is very limited and not useful at all. Now it is in your hands whether you want to take your SEO game to the next level with Semrush or get limited access with very few features. CHOOSE WISELY!
Semrush is a power-packed ONLINE MARKETING TOOL that can be a game-changer for your brand. In 2020, Semrush rebranded itself and rolled out major updates which are effective in 2021. 
Hope you liked our detailed Semrush review with key Semrush updates.
FAQ Related To Semrush Updates
Is Semrush Social Media Toolkit Free?
Yes, you can try social media toolkit of Semrush free for 7 days by availing a free trial of the tool. With free trial. you get full access to the powerful features of Semrush. If you don't want to opt for a free trial then you can just login and try but the features will be limited.
Can Semrush Post to Instagram?
Yes, with the help of Semrush you can post to Instagram. A dedicated social media poster toolkit is there from which you can not only post on Instagram but also in Pinterest, LinkedIn, Youtube and Facebook.
How Long is Semrush Free Trial?
You can avail exclusive free trial of Semrush for 7 days and try powerful features of its pro plan worth $119.95. Don't miss this trial.
Can I Cancel Semrush Free Trial?
Yes, you can cancel free trial of Semrush. You need to send an email to mail@semrush.com and they will cancel your trial within one business day.
What is Content Marketing Toolkit?
Semrush has especially designed a content marketing toolkit for content marketers. Content marketing tools take care of the research and technical part of online content creation and optimization so that we can sit back and relax.
Disclosure: This content contains few affiliate links, which means if you purchase any hosting via our links you will help us fund this blog. No additional cost will be charged to you. Win-win for both of us, right?
Summary
Reviewer
Date
Reviewed Article
This SEO Tool is UNBEATABLE | Semrush
Rating





Product Name
Price
Product Availability