Every SEO tool claims to be the best and why not? – They might be.
But the question arises "Which SEO tool is well-suited for YOUR Business?" With a plethora of options available, finding an SEO tool isn't a difficult task but choosing the right one is. It usually comes down to Ahrefs vs Semrush. Both tools have their own loyal fanbase but for a beginner, choosing between the two can be really daunting. Never mind, this in-depth guide will help you make a smart decision. 
We'll be talking about –
Premium features and tools offered by Semrush and Ahrefs,

Pros & cons of Semrush and Ahrefs,

Plans and pricing details,

Are Ahrefs and Semrush worth the money?

Last but not least which tool is right for you?
You must be wondering why everyone holds onto Ahrefs vs Semrush, and not other tools that are specialized in performing one specific function? Because Ahrefs and Semrush are specialized in providing all online marketing solutions at one price thus making our journey more convenient and hassle-free.
Semrush is a SAS platform and tool that takes care of providing marketers with insights and data to boost up their online visibility strategy. It was established by Oleg Shchegolev as an SEO tool and browser extension before adopting the SAS model.
With Semrush you can get data related to website traffic, keywords ranking, AdWords spend, site audit, lead generation, and more. Semrush serves large companies such as eBay, Quora, Booking.com, and BNP Paribas. In 2016 Semrush reached the milestone of 10,00,000 users in more than 100 countries.
Semrush comes with many different tools that are accessible for the lowest price point of $99.95 a month if billed annually. For instance, it comes with analytics for your domain keywords and traffic which includes report and historical data.
It's also capable of tracking who is backlinking to your content, quick SEO fixes, find top content publishers that are buying display ads and keywords. Let's check out the features of Semrush in brief.
Site Audit Tool –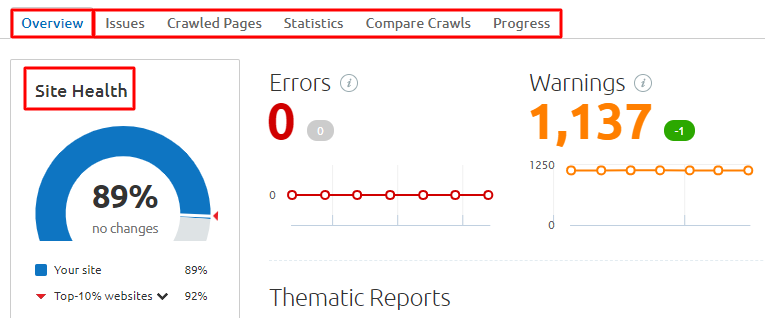 This tool is my personal favorite as it provides you a piece of very detailed information in terms of your technical SEO and other elements of your website that you may need to fix in case you've got any errors.
The overview tab of the site audit tool straight away gives you any errors, warnings, or notices that you may have on your site. This tool also helps you to easily see the crawl depth or issues specific pages have. The progress tab within the tool gives you a better indication in terms of how well you've been fixing your website issues if there were any.
Keyword Gap Tool –
Keyword Gap Tool at Semrush is really good at determining which keywords your competitors are ranking for. The way it visualizes all of this is absolutely great for those who like seeing graphs of different data rather than watching out numbers.
You can put up to 4 different competitors and it will quickly find you any keyword overlaps in terms of keywords my rival rank for that I don't. The benefit you'll get from here is that it will give you the top opportunities that you can try to rank for and beat the rivals.
With Semrush, you can see all the standard metrics such as the search volume of the keywords, the keyword difficulty score, CPC, competitive density, and also the number of results that show up for that keyword.
If used wisely, this feature is really powerful because this will help you in sorting your content strategy that what type of content you can make to try and target different keywords.
SEO Content Template –
Once you've got the idea of your targeted keywords, Semrush gives you a feature of the content template that basically tells you about how to target these keywords.
All you have to do is enter the keyword that you want to target like SEO consultant in India or your targeted location and hit the create button. Really quickly it comes up with a template where it tells you about semantically related words that you might want to include in the content, gives you domain to get backlinks from, tells you what the average readability score is in terms of the top 10 ranking domains for that particular keyword and also gives you the recommended text length as well so you get an idea of exactly what the competition is doing.
It is really important to know about your keyword competitors because if they are ranking in the top 10 positions, obviously they are being rewarded by Google.
Position Tracking Tool –
This is something I use every single day to track how my rankings are performing over time. When you go to the landscape tab, you will get an idea in terms of your visibility, estimated traffic, average positions, how many keywords you are ranking for in particular clusters in terms of top 3, top 10, top 20, and top 100. It is the most accurate position tracking tool available in the market today.
The best thing you will get in this SEO tool is that it will show you recent changes in your positions. Visibility chart updates every single day which shows how are you doing on Google. The data is very accurate and updated on a daily basis. You will get emails every single day telling you what the major changes have been within that 24 hour period.
Keyword Magic Tool –

All features are great in Semrush but this one of the most loved features. This is an absolute must-have for people doing keyword research because it does a lot of automation and makes your life much easier in terms of identifying user intent for instance and also different types of cluster keywords that you can try to target. Check our detailed guide where we have revealed the best keyword research tool.
When you hit the search button for a keyword, it really quickly comes up with a bunch of great keyword ideas. You can watch standard metrics such as search volume, keyword difficulty, CPC, competition. You also get an option to filter by specific words such as best, then you'll get all the list of keywords that contain best in them.
The other thing you can do is go onto questions and you'll get a bunch of questions that you can use for FAQs. All of these things are really quick and smooth. Finding long-tail keywords is also very important when it comes to keyword research. You can add filters to find out the best long-tail keywords for your business.
I have also tried many other keyword research tools but the Keyword magic tool is definitely my go-to SEO tool when it comes to keyword research.
In-Built Tools – You will get all the tools you require in digital marketing whether it is for SEO, Content marketing, Paid ads, Social media, Market research. You don't need to browse much to find different tools for each aspect.

Bit Inexpensive – Yes, it might be expensive for users who are beginners and looking to acquire business but if you're ready to invest in SEO tools then Semrush must be there. It basically provides all the features in their minimum package which is missing in other competitors.

Best Keyword Research Tool – Doing keyword research is really made easy by Semrush. The data is very much accurate and it is a go-to tool for many SEOs and digital marketers.

Constant Updates – Semrush won't settle at making one change. They are constantly improving and making their tool stronger and better.

Reveals Competitor's Advertising Strategy – There are not many tools that can give you a pretty detailed and in-depth analysis of a competitor's paid advertising strategies. All the strategies of your rival will be uncovered if you start using Semrush.
Geographical Search Filters – The tool cannot filter by city, you can only filter by countries such as United States, India, or any other targeted country.

Discrepancies in Backlink Data – No tool can provide 100% accurate data but the data provided by Semrush can sometimes be irrelevant but they are working on it and I'm sure they are going to improve this in the coming years.

Design Not Mobile Friendly – Most people won't use tools on mobile but if you want to it will be difficult as the design is not that mobile-friendly.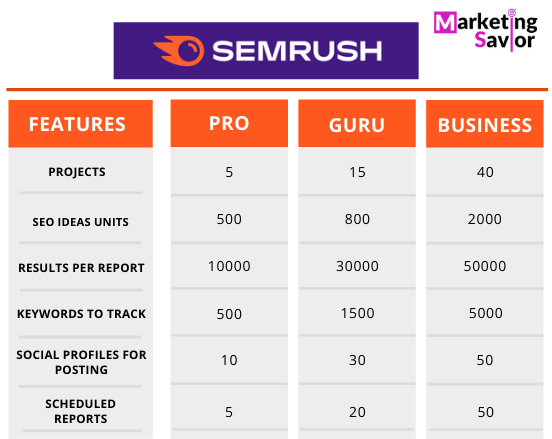 There are 3 different packages offered by Semrush which are as follows –
Pro Plan ( Best for Freelancers & Startups ) – 
$119.95 Per Month which you can avail of at a 16% Discount for $99.95 Per Month (Billed Annually) 
Guru Plan ( Best for SMB & Marketing Agencies ) –
$229.95 Per Month which you can avail of at a 16% Discount for $191.92 Per Month (Billed Annually)
Business Plan ( Best for Ecomerce Projects & Big Agencies ) –
$449.95 Per Month which you can avail of at a 16% Discount for $374.95 Per Month (Billed Annually)
Check Out Features of Each Plan in Detail by Clicking Here.
How to Use Semrush for Free?
Semrush offers 3 plans as mentioned above:
The pro plan is best suitable for freelancers, startups, and bloggers. So if you're trying this tool then I'll suggest you go with the Pro plan first and get the most out of Semrush. If you want to get a free trial click here and start using Semrush free for 7 days. But in this case, you'll need a debit/credit card and they will charge you $1 which is refunded back to you immediately. This is done just for verification purposes.
I'll suggest going for a 7-day free trial because you will get access to all the features of Semrush that too without any cost. If you don't want to get charged for the pro plan, discontinue the service before the end of a free trial, and here you go. You have easily availed Semrush services for free.
The all-time free trial is very limited and not useful at all. Now it is in your hands whether you want to take your SEO game to the next level with Semrush or get limited access with very few features. CHOOSE WISELY!
Is Semrush Worth the Price?
Semrush is a significant SEO software in the industry that one should definitely consider if you are in the market for SEO and looking for paid SEO software. Why? Because it has extremely detailed analytical information on so many different aspects of SEO that you might not see in every tool.
Semrush can do everything from position tracking to backlink analysis. It has a very strong ads database for PPC or product listing ad which can help you to win over competitors any day. Semrush could easily surpass Ahrefs if they invest more resources into backlinks.
I would definitely recommend starting your free trial and you will have precious 7 days to judge whether it suits your need or not.
About Ahrefs:
Ahrefs is a data-driven SEO tool that allows you to track things like backlinks, organic traffic, indexing keywords, and non-indexing keywords. Ahrefs is a platform that gives you an in-depth reason why your competitors are ranking so high and what you need to do to beat them.
This SEO tool provides exceptional features that fetch out the most relevant link data. The report and stats you get from each link are unique. This tool is used by thousands of users worldwide. You can use the Ahrefs test for 7 days at a price of $7. Ahrefs does not offer a free trial like Semrush. Ahrefs is a preferred tool used by many professional marketers and bloggers for analyzing a competitive website.
Ahrefs Features:
Let's walk through the top features in Ahrefs that can help you in SEO:
Site Explorer –
Site Explorer is one of the best features in Ahrefs. Type in any URL and you will be able to see its Ahrefs rank, the number of backlinks mentioned on the website, referring to the domain, organic keywords that the website is ranking for. Within Site Explorer, I usually like to click on organic keywords – this feature allows you to see all the keywords for which a particular website is ranking.
Backlinks Tool –
The backlinks tool is also a great feature that allows you to view all the external websites that are linking to the particular website you are visiting. You can filter the links such as do follow, no follow, sponsored. The Broken Backlinks feature gives you a report of all 404 pages on your website. If you want to clear this up, add 301 redirect the 404 pages to a relevant page that's live.
Keyword Explorer –
With this feature, you can see the difficulty of a particular keyword as well as search volume and additional metrics. You can see the name of the keyword, the volume on a monthly basis, the keyword difficulty on a scale of 1 being the easiest and 100 being hardest so we want to target keywords that are less difficult. An estimate of the amount of traffic this particular keyword brings in based on the position and the volume is an estimate of the number of searches this particular keyword is receiving over a monthly time frame.
Content Gap –
This is a tool you can use to write new topics. Content Gap is one of the most used tools so far, due to Crazy Insights, which you can get in no time. All you have to do is enter a competitor's website link and you'll get all the keywords that they rank for in the top 100, but you don't. Easily choose ideas that you should go to later and beat your competitor with your content.
Content Explorer –
This tool by Ahrefs is like a mini search engine made for marketers. You can use it to find over a billion pages that mention your target keywords and get a ton of SEO and marketing metrics for each page such as referring domains, search traffic, social metrics, and more. 
Another simple hack that you can do with the Content Explorer feature is to filter the pages according to your needs, for example, you want to have a look at the pages that gets at least 500 visitors. Click the search button and you will find all pages with at least 500 visitors.
Ahrefs PROs:
Backlink Data – Ahrefs continues to provide the best backlink data in the industry compared to other tools. Ahref is far ahead of the game when it comes to backlink data analytics

Keyword Research – Searching keywords is the most important step in any SEO campaign. Ahrefs will help you in finding the keywords that you should target in order to rank.

Plenty of Tools to Use – site explorer, keyword explorer, content explorer, rank tracker, site audit checker, and more. While I personally do not use most of the tools available, it is good to know that they are available to use when needed.

Customer Support – Ahrefs provides good customer support if you need it. They have an active Facebook group where they address the doubts of their users. Click here to join the group.
Ahrefs CONs:
Off Traffic Figures – I know it is impossible to get completely accurate data, but close to the actual data would be a great feature.

Cannot Export Graph: Some graphs within the tool can't be exported. It might be fixed in the coming years.

Complexity: Ahrefs is great and powerful, but not always easy to understand. If you know why are you using Ahrefs then only you can get the real value from it.

Pricing – Ahrefs is a bit expensive, as the "lite" plan is quite limited with features, and the next plan costs almost double. There are more affordable options out there such as Semrush which offers a free trial to new users.
Ahrefs Plans & Pricing:
There are 4 different packages offered by Ahrefs which are as follows:
Lite Plan Starting from $99 – Best for Bloggers/Freelancers
Standard Plan Starting from $199 – Best for Small Company
Advanced Plan Starting from $399 – Best for Mid Sized Company
Agency Plan Starting from $999 – Best for Big Agencies and Companies
Is Ahrefs Worth the Price?
There is no doubt in saying that Ahrefs is a great SEO tool, which you can use for your business.
Ahrefs covers all aspects related to SEO including backlinks, keyword planning, content research, and domain overview. Extremely deep backlink databases and content explorer distinguish Aherefs from others.
But if you're more into PPC and stuff, I wouldn't recommend Ahrefs because Semrush takes over here. Yes, it is not cheap and does not offer a free trial but there is no harm in trying this tool. I am sure you won't be disappointed.
Features Compared – Ahrefs vs Semrush:
1. Web Page Crawling – 
It means the pages which are founded on the website. These SEO tools provide an overview of SEO and key data in charts, numbers, and SEO issues. Both tools provide recommendations on how to fix them to increase your visibility.
(Score:  Semrush – 1 | Ahrefs – 1)
2. CPC  ( Cost Per Click ) –
CPC metrics are shown by both the tools. You can look at the estimated CPC for a keyword that will be charged by Google Adwords. It is a very dynamic metric because advertisers can raise or these bids anytime.
(Score:  Semrush – 2 | Ahrefs – 2)
3. SEO Lead Management –
This lead generation tool gives you a custom widget to give your website space to gather emails from website visitors. With this lead management tool, you will be able to acquire business passively for your online agency or service. This device is only available with Semrush.
(Score:  Semrush – 3 | Ahrefs – 2)
4. Competitive Analysis –
This tool does all the research to make your marketing decisions strong based on your competitor's strategies. It can help you to disclose all the strategies of rivals from organic search to advertising, content, and social media.
(Score:  Semrush – 4 | Ahrefs – 3)
5. Domain Authority –
The domain authority of a website describes its relevance for a specific subject area or industry. This relevance has a direct impact on its ranking by search engines. Both tools Ahrefs and Semrush give you access to check Domain Authority.
(Score:  Semrush – 5 | Ahrefs – 4)
6. SEO Reports –
SEO reports will help you regularly monitor your website's health. You have an option to schedule a weekly technical SEO audit and both the tools will automatically start crawling your website. When the crawling is done, you'll receive a notification in your inbox. This feature is available in both SEO tools.
(Score:  Semrush – 6 | Ahrefs – 5)
7. Google Analytics Integration –
You can use this feature only with Semrush. Integrate your website's analytics with Semrush and you can watch all your website data within Semrush.
(Score:  Semrush – 7 | Ahrefs – 5)
8. Keyword Management –
Keyword management is an innovative and multi-faced approach for discovering, analyzing, grouping, and organizing a large number of keywords with an objective to build and optimize your PPC & SEO research marketing campaign. This feature isn't available with Semrush. Hence, Ahrefs gets a point here.
(Score:  Semrush – 7 | Ahrefs – 6)
9. Google Search Console Integration –
As you can integrate Google Analytics with Semrush. You also have an option to integrate Search Console with the tool so that you have all your data in one place. You can access this feature with Semrush but not with Ahrefs.
(Score:  Semrush – 8 | Ahrefs – 6)
FINAL VERDICT ( SEMRUSH – 8/9 | AHREFS – 6/9 )
Conclusion – Ahrefs vs Semrush:
Overall after this review and comparison of features, pricing, pros & cons if I had to pick, I would be going for Semrush with no brainer. The reason is simple, they offer a variety of features and access to tools for its users that too in the minimum package. 
Features in Ahrefs are limited in the minimum package and if you want to get more features you have to pay approximately double for getting access to more tools. But if your core focus is towards building more backlinks then I would suggest going for Ahrefs rather than Semrush.
For everything else, Semrush is the way to go for sure. Check out the links below, for a free trial of Semrush. Give it a spin, trust me 7 days is plenty of time to figure out you're going to like it or not.
I hope you are now clear between Ahrefs & Semrush SEO Tools by this blog. Do let me know in the comments section which SEO tool you are going to try and who is the winner for you between Ahrefs vs Semrush?
FAQ About Ahrefs vs Semrush:
What is Ahrefs?
Ahrefs is an online SEO Tool for marketers that can help in analyzing backlinks, doing keyword research, SEO mistakes you are marking, and how to fix them.
Is Ahrefs Free?
No, unfortunately Ahrefs is not free. The pricing of Ahrefs starts from $99. You have to pay $7 even for a trial of 7.
Is Semrush free?
Yes, Semrush offers a 7 day free trial to their users so that they can get to know the full power Semrush (All in one SEO Tool).
Is Semrush worth it?
Semrush is one of the best SEO Tool in the industry. Yes, Semrush is definitely worth the price. With so many powerful SEO Tools and features such as keyword research, backlink analysis, domain overview, advertising research, and much more at one place and under one plan.
What is the pricing of Semrush?
The pro plan of Semrush starts with $119.95 Per Month which is the most preferred plan for freelancers, bloggers, and small agencies. You can also avail free trial for 7 days and utilize all the powerful features of the tool.
Which is better Semrush or Ahrefs?
Both tools are great in their respective areas. If you want a tool especially for backlinks then Ahrefs is better than Semrush. But if you are more into keyword research and PPC then Semrush is the way to go.
Disclosure: This content contains few affiliate links, which means if you purchase any hosting or tool via our links you will help us fund this blog. No additional cost will be charged to you. Win-win for both of us, right?
Summary
Reviewer
Date
Reviewed Article
Best SEO Tools Compared | Ahrefs vs Semrush
Rating





Product Name
Price
Product Availability