Are you wondering if there is any tool that can give you insight into your competitor's PPC, SEO, keywords they are ranking for, and help you in knowing their traffic source? If yes, then we have got something for you.
Semrush – A powerful online visibility and content marketing platform that covers various areas of your online presence from SEO to content marketing, social media, and more.
In this blog, we will be running through Semrush's extensive advertising toolkit that can definitely help you to win over your competitor's PPC & SEO strategies and get some good business.
The variety of features Semrush offers in this PPC advertising tool can sometimes be overwhelming, and at first glance, it is difficult to understand what Semrush is really capable of. That's why they are offering an exclusive 7-day free trial to new members so that they can observe and get an overview of the tool.
So without wasting any time, let's dive into the concept of this advertising and SEO tool and I will show you how this tool can change your fortune in online business. Make sure you don't miss a thing.
Check out Brel Digital for website maintenance services.
As an entrepreneur or a marketing professional, you have to spend countless hours doing trials and errors that set you apart from your competition. Semrush Advertising Toolkit will do all the hard work for you. This toolkit is comprised of various workflows.
You can run a competitive analysis – Analyze your competitor's online advertising strategies and tactics

Keyword research – Watch out for keywords that your rival is targeting to acquire more business.

Creating ad campaigns from scratch – Semrush gives you advanced analytics reporting that allows you to get insight into your competitor's display advertising.
Competitive Analysis :
Crafting the perfect advertising strategy for your business always starts by looking at the competitive landscape. And this PPC Tool can help you capture that information.

This tool helps you analyze your competitor's advertising strategies at various levels – domains, subdomains, or URLs. You can also choose a location and type of device as per your needs.
Look at Competitor's PPC Ad Copies
Understanding how your competitors appeal to their audience via paid ads is also made easy and hassle-free by Semrush SEO Tool. You can explore the archive of the actual Ad copies that are available in the Ad copies report. Isn't this awesome?
Being a master scrapbook, this report has headlines and call-to-actions that your competitors use in their advertisements. You can also get a long list of the keywords they target with the landing pages where paid traffic is sent by your competitor.
For the convenience of its members, Semrush has already sorted ad copies in the number of their efficiency and keywords they target.
Watch out for the PPC Ad History
With the Ad History report, you have access to the competitor's overall advertising strategy for the last 12 months. This data gives you the opportunity to find out how and when they run their ads, what keywords they use, and how much traffic it brings to them.
Pay special attention to ads that have been running for some time. If you found that a rival has been running the same ad for more than a month, then it definitely helped them in earning a lot of business. Watch out for any seasonal or festive trend months in which they have increased their PPC campaigns and use these insights for your advertising strategy.
Keyword Gap :
The next SEO tool we are going to talk about is Keyword Gap. This is where you will have a 360-degree overview of how your domain is performing against your competitors. All you have to do is choose the five biggest competitors and use the chart view to identify any common or unique keywords.
Another great feature that you will get with the keyword gap is a separate section of unique keywords that shows any missing keyword opportunities for your organic or paid search strategy. The keyword gap doesn't just cover your organic keywords but you can also gather insights on paid or PLA (Product listing ads) keywords too.
CPC Map
If you don't particularly care about any advertiser and need to identify the capacity of a specific state or territory in terms of cost per click and demand for your services, use CPC Map.
The tool will help you identify the industry's most expensive and high-volume keywords and compare local PPC costs & search volume across multiple industries. These numbers will help you quickly evaluate a figure for advertising in the region of ​​your choice.
Display Advertising
Semrush also gives you access to a set of tools for having a deep look at your competitor's display & shopping ads. Display advertising provides a helicopter view of the rival's display advertising strategy. This gives you the advantage of picking up the paid advertising strategies you have missed but your rivals didn't.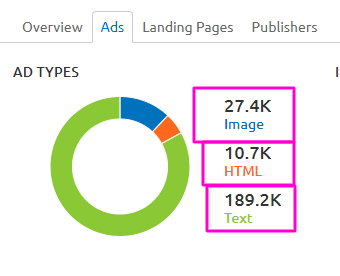 In the next step, you can find out what types of ads are being displayed whether they are text ads or image ads. Filter the competitor's ad by adding your targeted location and device. Semrush sorts the competitor's ad by watching out the performance data of advertisements which can be – media, HTML, or text. You can see when and where the advertising campaign was launched and which type of creatives and graphics they have used.
As a nice bonus feature, you can review your competitor's largest publishers and see if you are missing an opportunity for your own ad placement.
PLA (Product Listing Ads)
If your competitor is in E-commerce, you might be eager to discover which of their product listing ads or shopping ads showed up for different keywords along with their recent position changes. Well, Semrush covers this too. PLA (Product Listing Ads) research tool helps you in uncovering what your competitor's PLAs look like and analyze their components.
You can discover the titles and prices of promoted products and if you filter the list of copies by the number of keywords via the advanced filter option, you can find out what products they're placing their biggest bets on.
Don't stop perfecting your ad campaigns.
Keyword Research :
Once the intel has been collected and the competitive landscape of paid campaigns of your competitor has been canvassed, it's time to start setting up your own ad campaign.
In paid search, keywords play a major role that decides the success of an ad campaign. But with Semrush, you have all the tools for an efficient and smart keyword strategy at your disposal. When you are choosing your bid keywords, make sure they address the search intent relevant to your advertising goals.

If you are wondering how to do keyword research, you can check our detailed guide. But in short, enter your target keyword, and look at semantic groups to pick the ones that best address your advertising goals.
Filtering keyword groups and questions in Keyword Magic Tool will help you identify the most high-volume keywords with the right intent. Use advanced filters to spot low-hanging fruits with the least competition and CPC.
Don't only target short-tail keywords but also target long-tail keywords which has a buying intent. Here is our detailed guide on doing Long tail keyword research.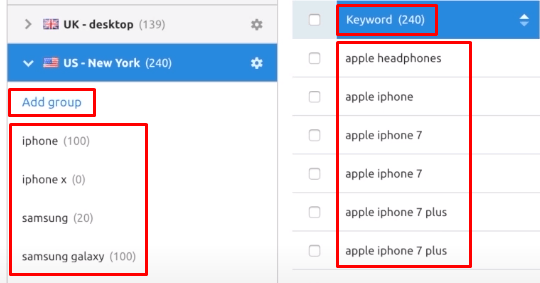 Now your keywords are ready to be transferred to the PPC Keyword Tool that will further optimize your PPC campaigns for the target keywords. PPC Keyword tool will be your side-kick in fine-tuning your keywords list and preparing for a campaign launch.
It will help you organize keywords at a campaign & ad group level, quickly define negative keywords, and export the report to seamlessly import it into Google Ads.
The tool is similar to Google Ads: you can segment your keywords into groups, campaigns, or groups with keywords and metrics. For local campaigns, the PPC keyword tool will display such metrics as CPC and search volumes for a particular location, which is an essential part of the process.
You can always add more keywords you'd like to work with by using Semrush's suggestions or uploading the keywords from your existing campaign. Semrush will analyze your keywords and give you a list of recommendations for optimization – whether you should clean your keywords, remove duplicates, cross-group negatives or remove empty groups to make sure you are not wasting your ad budget.
With all the legwork now being completed, you've looked at:
Analyzing the competitive landscape.

Uncover your rival's ad strategies

Build a powerful keyword list
Project Management Tool:
Now, you're geared up to start working with Semrush's Advertising toolkit. But before I let you go to explore Semrush's diverse features, I'd love to introduce you to a very special part of Semrush's powerful suite, which has been designed to streamline your management and collaboration processes.
Your first step here is to get acquainted with projects which is a bundle of different tools that cover your online visibility. Projects provide a 360-degree view of the progress of your work, facilitate your team's cooperation, and keep your clients in the loop. You can easily share the project for view or edit with anyone in your company or outside of it.
If your boss or a client prefers to have hands-on experience on a regular basis, My Reports will help you create custom reports that cover data from various tools. Make use of a wide range of our pre-defined templates, or build your own report.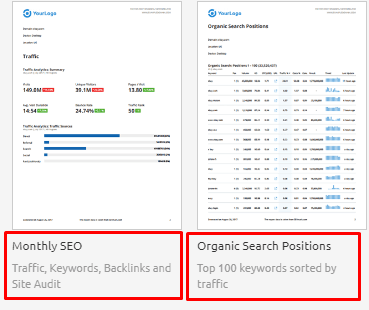 Once you've fetched the report, email it to your client and make sure you save your brand-new report as a custom template to use later.
That's it, folks! You now know what Advertising with Semrush looks like! This was a very quick run-through of Semrush's Advertising toolkit. Once you start working on your project, you'll realize that there's always something new to discover, along with a continuous flow of new features.
Have you used Semrush yet? How was your experience? Let us know in the comment section 🙂
FAQ Related to PPC Tools:
What are types of keywords in PPC?
There are 5 main types of keywords you should be focusing on when doing your keyword research for PPC. Generic Keywords - Terms and phrases specifically related to what you offer. Brand Keywords - Your brand name and phrases that include your brand name. Commercial Keywords - Terms a user might be typing when searching for a product you offer. Competitor Keywords - Specific names of competitors that people in the market may be searching for. Long-Tail Keywords - Longer more specific phrases that have low competition & cost.
Is SEO or PPC better?
In PPC, you are sure to get immediate results and can give a quick boost of traffic to a particular site. SEO is a slow process. You are unlikely to see major changes in your traffic in the initial phase. The results of SEO are long-lasting and are the building blocks for a website's online reputation and goodwill.
What is the best PPC tool?
SEMrush is one of the best PPC Tool out in the market. With their advertising toolkit, you can easily look at the strategies of your rivals and implement those strategies in your paid advertising to acquire more business.
How to find best keywords for PPC?
An easy way to determine the profitability of a topic is to measure it by the 'PPC metrics' which are - Popularity, Price, and Competition.Popularity - The more popular the keyword is the more clicks you will get on your ads. Price - The keyword price will depend on the product you are promoting and it will also determine your profit margins. Competition - How much other competitors are bidding on a keyword? More rivals for a keyword means higher the price of the keyword.
Disclosure: This content contains few affiliate links, which means if you purchase any tool via our links you will help us fund this blog. No additional cost will be charged to you. Win-win for both of us, right?
Summary
Reviewer
Date
Reviewed Article
Rating





Product Name
Price
Product Availability