Is DreamHost a good Webhost? Are you searching for the answer to this question? Then you have landed on the right blog post.
In this DreamHost web hosting review, I'm going to be laying out all the information that you could possibly need to make a decision on whether or not to choose DreamHost as your web hosting provider or not. Stay tuned because all of the information will be inside this blog.
I'm an actual user of DreamHost myself and performed live tests on 2 websites using their plans. The results really amazed me! I am using plenty of other web hosting providers also to help you guys make an informed decision on which is the best web hosting provider to choose for your needs.
| | |
| --- | --- |
| | Our Rating - 4/5 |
| SPEED: | 1339 ms (April 2020 to March 2021) |
| UPTIME: | 99.91% (April 2020 to March 2021) |
| SUPPORT: | Live Chat, Mail, Knowledge Base, and Forum |
| APPS: | WordPress, Blogger, Drupal, Shopify, Wix, and more |
| FEATURES: | Unlimited bandwidth and storage, free SSL, free domain 1st year, automated backups |
| HOSTING PLANS: | Shared, Cloud, WordPress, VPS, and Dedicated Servers |
| PRICING: | Starting at $2.59/mo |
About DreamHost: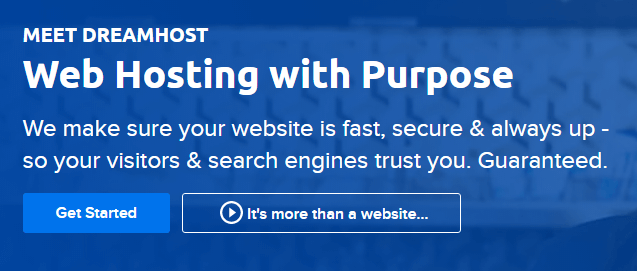 DreamHost is a shared, managed WordPress and a dedicated web hosting provider that's more focused on quality rather than quantity.
They actually host over 1.5 million websites as of around October 2020 and it's actually a nearly 25 years old hosting company that has been around for a very long time. DreamHost gives you a guarantee that your website will not go down due to an error on their side which is pretty good.
Uptime & Page Speed:
To compete in the industry, they have been able to maintain very good uptime and page speeds. DreamHost has an above-average uptime of around 99.96 percent and their page speeds are on average around 719 milliseconds not bad at all.
The page speed of DreamHost is not the best by far as compared to the top best web hosting providers that give you page speed in the range of 350 to 400 milliseconds but one thing I really like about DreamHost is that they are very consistent with their speeds.
Money-Back Guarantee:
Can you guess for how many days DreamHost gives a money-back guarantee? No, it's not 30 days or 45 days. Dreamhost straight away has 97 days money-back guarantee which is like WOW!
The vast majority of other web hosts that I've actually reviewed usually give a 30-day refund period some of them up to like 45 days but with DreamHost, you get a money-back guarantee for up to 97 days which is over three months.
DreamHost has no hidden conditions or hoops that may affect your money refund because they might want each user to be happy.
Recommended By WordPress:
Another important thing to note is that if you come to wordpress.org and take a look at their hosting, DreamHost is actually one of their three recommended web hosting service providers. It's actually recommended by WordPress themselves so this is going to be absolutely perfect for any novice webmasters.
If you're looking to start your first WordPress website or with any other CMS and you don't have a lot of experience doing website-related things, then DreamHost WordPress hosting is going to be absolutely perfect for you.
WordPress comes actually pre-installed when you sign up with DreamHost. So there's a good reason to join DreamHost as it is one of the best web hostings for beginners recommended by WordPress itself.
Green Hosting:
This is something that you might be interested in if you're environmentally conscious and some of you might not care. The data centers of DreamHost include high-efficiency cooling and processes which minimize heat generation.
Not only this, but DreamHost is also serving hands in state-level programs to protect renewable resources. The offices of DreamHost are leed and energy star certified which means everything from lighting to HVAC systems are energy sufficient.
DreamHost WordPress Academy:
As recommended by WordPress itself, DreamHost actually takes this pretty seriously. They not only integrate WordPress into their services quite extensively but they also offer a DreamHost academy.
It is a collection of premium tutorials on how to set up, run, and optimize your website. The best in total there are 42 different tutorials here so if you want to learn WordPress but haven't had the chance then DreamHost is definitely a place to start.
Web Hosting Tests & Results:
I have actually tested their uptime and page loading speed by creating 2 different websites one using the cheapest web hosting plan and one using a more expensive plan. In the period of 3 months, my website only experienced two minutes of downtime.

When it comes to loading speed DreamHost doesn't fall behind the industry leaders like A2 Hosting or Siteground. My fully designed DreamHost website loads in 2.3 seconds just around 20% slower than the fastest and most expensive options.
Why you should try DreamHost?
I'll suggest you choose a hosting plan depending on your experience and the needs of your website because probably hosting and domain name are going to be the first thing you will invest in when you are thinking of starting an online business.
No matter whether you are a beginner or an expert, I insist you try DreamHost because it is a completely risk-free and experienced hosting provider with a solid money-back guarantee. You will have enough time to decide whether the service is right for you.
I'm sure in most of the cases they won't disappoint you but if they don't satisfy your website needs then you can ask for your refund and use other web hosting providers such as Bluehost, Hostinger, or A2 Hosting.
DreamHost Plans & Pricing: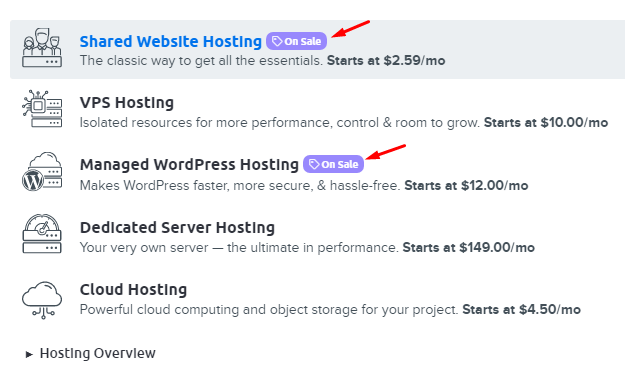 Let's take a look at their pricing plans but before we go forward let me tell you that if you use the link down below, you are going to get the lowest price possible right now. DreamHost hosting pricing starts at $2.59 per month on sale at the moment which is very cheap. Let's go deep into their hosting plans and have a look at what features you actually get at their hosting price.
The shared starter hosting plan of DreamHost is not bad at all for $2.59. In fact, it is one of the most affordable hosting out there.
Features included in Shared Starter Plan –
One website

A free domain name

Unlimited traffic

Unmuted bandwidth

Pre-installed WordPress

Free SSL certificate

WP Website Builder
Without any doubt, you get tons of features in the lowest hosting plan of DreamHost. This shared starter plan is going to be really useful for absolute beginners.
DreamPress Hosting Plan:
If you've got some experience and need extra premium features, DreamHost offers a higher-level hosting plan known as Dreampress. The pricing of this plan starts from $16.95 per month.
Features included in DreamPress Plan –
All features of the Shared Starter Plan

24*7 WordPress support

1 Click Staging

Unlimited emails

On-demand backups & 1-click restores

Pre-installed SSL certificates
DreamPress plan starts at $16.95 per month while providers like WP Engine or Kinsta offer the same managed WordPress plans starting at $25 and $30 respectively.
By the way, did you know that you can save yourself a lot of money by using the discount links? Yes, I have discount links for all the major web hosting providers because that's what I do for a living.
VPS Basic Hosting Plan:
It is actually a partitioned part of a server that has its own memory, CPU, and disk space allocated to it. Therefore, it acts like a personal computer.
Hence due to its shared nature, the price has come down significantly compared to dedicated hosting. The pricing of VPS hosting starts from $13.75 per month.
Features included in VPS Basic Plan –
1 GB ram

30 GB SSD storage

Unlimited websites

Unlimited traffic

Free SSL certificate

Unlimited E-mail with your domain name
Other Web Hosting Plans:
Not a beginner or newbie and looking for other options such as dedicated servers or cloud hosting? Whatever your hosting needs are, DreamHost has your back. They have everything you could possibly need.
Dedicated servers are a lot more suitable for medium and big businesses. But these are going to be a lot more expensive. Dedicated servers start at a pricing of $149 per month whereas cloud hosting starts at $4.50 per month.
Renewal Price:
Usually, with most of the web hosts after your hosting period is ended the renewal price will go double or triple sometimes but with DreamHost that is not the case.
It is one of the best things I like about DreamHost that there will be no price hike when your first term is ended. It is something very important to know because it can save your hard-earned dollars. Choose Wisely!
Some Limitations of DreamHost:
There is no perfect web hosting service present right now and DreamHost is no different. Some limitations that I found while using DreamHost are listed down below.
Limited Live Chat Support – 
DreamHost does say that they have 24*7 support but the team is not available every time. They do have a bot answering some of your questions but obviously, when you're speaking to a bot they can't answer your questions 100% perfectly. However, when you do actually chat with a human they are very helpful and knowledgeable.
There is no phone support available so if you're a person that likes direct human contact then your only options are support callbacks which are a paid add-on and not available for free on shared plans. They only accept phone calls from the USA or Canada.
No CPanel – 
This point might be irrelevant for inexperienced site owners or bloggers but advanced users might care about this. This point might be irrelevant for inexperienced site owners or bloggers but advanced users might care about this. DreamHost doesn't offer CPanel access instead you have to use the panel created by DreamHost itself.
No Free Site Migration – 
Free site migration is something that advanced users must know about but this won't be a limitation for beginners.
DreamHost doesn't offer any free site migrations on their shared hosting plans instead DreamHost charges you a one-time fee to move each site so if you have a lot of sites.
DreamHost Web Hosting Review Verdict & Is it Good for you?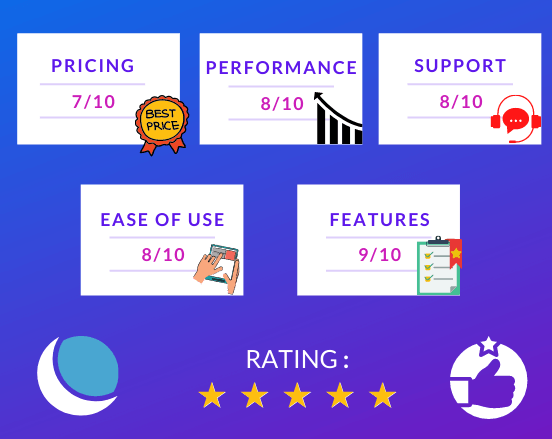 Well Yes, In my humble opinion, DreamHost is offering premium web hosting services for a low price if you know your way around web hosting then DreamHost offers everything you will require.
There are other options out there as well but overall DreamHost performance is pretty good across the board, they've got very reliable uptime, have some pretty quick loading times and it's all very consistent.
The default plan limits are pretty high offering a bunch of unlimited options for disk space, bandwidth, and all that other stuff as well is really good considering how affordable it is.
As mentioned before, no other web hosting provider comes near to DreamHost when it comes to price renewal. Just keep that in mind that the customer support was pretty limited to certain hours throughout the week and also the paid migrations can really demotivate you.
Drop a comment down below letting me know how was your experience with DreamHost or Are you going to buy it? If you're going to buy then don't forget to click on the link below!
I hope this detailed and in-depth review of Dreamhost Hosting will help you to make an informed decision. All the best for your website!
FAQ Related to DreamHost Web Hosting:
Is DreamHost a good website host?
I do recommend choosing DreamHost as your hosting provider. The hosting provider can be great for many users who are looking for affordable and reliable hosting. Their uptime and speed are good, it comes with 97 days money-back guarantee and there is no hike in renewal prices.
Is DreamHost good for India?
DreamHost is great for beginners to start with. And it can be a good choice for you to DreamHost as your hosting provider for the India location. They offer to host your website at an affordable and competitive price.
Is DreamHost good for Blogging?
Yes DreamHost is one of the hosting recommended by WordPress itself and it has all the features that you will require as a beginner or an expert.
Does DreamHost use CPanel?
No DreamHost doesn't use Cpanel instead they have created their own custom panel from where you can manage your website, emails, billing. All the features that Cpanel offers are available in their custom panel.
Disclosure: This content contains few affiliate links, which means if you purchase any hosting via our links you will help us fund this blog. No additional cost will be charged to you. Win-win for both of us, right?
Summary
Reviewer
Date
Reviewed Article
Rating




Product Name
Price
Product Availability