Are you thinking about whether InterServer is good for WordPress hosting? or InterServer is good for beginners or not? If you are searching for answers related to these questions then you are on the right page.
In this InterServer Hosting Review, we are going to take a deep dive into their hosting services, features, plans, and pricing. So here's everything you need to know before you buy InterServer.
Before moving forward let me tell you InterServer was my go-to hosting provider when I needed fast and cheap hosting. However, in recent updates, the platform has changed a lot. This review is going to be totally unbiased so that you can pick the best web hosting for yourself.
| | |
| --- | --- |
| | Our Verdict: 4/5 |
| SPEED: | 450 ms (November 2021 to May 2022) |
| UPTIME: | 99.96% (November 2021 to May 2022) |
| SUPPORT: | 24*7 Live Chat, Mail, Knowledge Base, and Contact Form |
| APPS: | WordPress, Drupal, Mambo, Joomla, Magento, PrestaShop & 450+ Cloud apps |
| FEATURES: | Unlimited bandwidth and storage, free SSL, unlimited domains, weekly backups, website builder, Cloudfare CDN, Intershield security, Free site migration |
| HOSTING PLANS: | Standard, ASP.net, Boost Web Hosting, Reseller hosting, windows VPS & more |
| PRICING: | Starting at $2.50 (65% OFF) |
| WordPress Hosting: | $1 for 3 Months |
About InterServer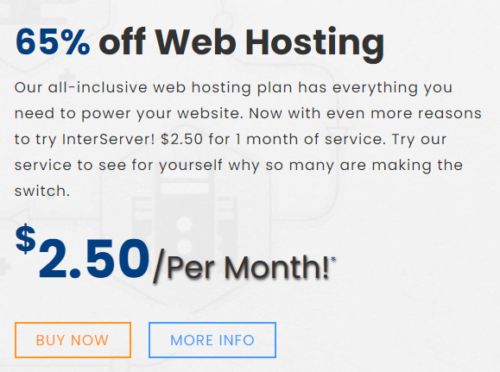 InterServer is a New Jersey-based hosting provider that is competing in the industry since 1999. The company has grown significantly over the past 21 years.
Currently, the company has 2 data centers one is in New Jersey, and they are looking forward to expanding in other locations including Los Angeles.
InterServer provides more emphasis to high-quality customer experience rather than being too Salesy. They offer one of the most prestigious security systems in the market that can save your website from getting attacked.
In short, InterServer is a company that treats you like a human being not like a bag of money. Read that again! 
Special InterServer $1 for 3 Months Plan
Yes, you read that right! InterServer is offering WordPress hosting plan at $1 for 3 months and it is a limited-time offer that you won't be seeing on their website.
After 3 months, you'll be paying $5 per month for standard hosting and you also get an option to change your hosting plan. Isn't this awesome?
Why you should try $1 for 3 Months WordPress Hosting Plan?

Since it is a limited-time offer by InterServer and there is no harm in trying this offer because you'll get all the features required to build a great WordPress website. Not only this, there is 30 days money-back guarantee too which makes $1 for 3 months offer risk-free for you.
What's Good in InterServer $1 for 3 Months?
Notable Features of InterServer
There are some great notable features that set apart InterServer from other web hosting companies and I think you should also know these features too.
It is one of my favorite features that there is no hike in the price of InterServer's web hosting plan after your initial subscription ends. 
There are 3 Plans offered by InterServer which are as follows:
The standard plan is for $5 which you can grab at $2.50 by clicking the link below. It is an exclusive discount for readers of marketing savior. The Boost 2 plan is for $10 and Boost 4 is for $20.
Boost 2 and Boost 4 are safe from any price changes, meaning that you will always be paying the same amount even after your subscription expires. Only the standard plan price rises to $7 at the time of renewal.
But why price renewal feature is important for you? Most major hosting providers such as Siteground may look cheap but you have to keep in mind that their initial price is to attract more customers.
Once you have signed up with them, trust me they are not going to renew your hosting plan at the same initial price. The renewal price will be doubled or tripled.
Another notable feature of InterServer that set apart them from other hosting providers is the price lock guarantee.
But what is the price lock guarantee of InterServer? It means once you buy a plan with InterServer as long you are hosting with them you are safe from any future price hikes.
For example, if you buy the standard hosting plan at $2.50 a month and in the coming years they increased the pricing of this plan to $9 a month then you're still going to pay the old price of $2.50 a month.
Many customers have recently benefitted from the price lock guarantee when InterServer changed their pricing from $5 to $7. They don't have to pay $7 and enjoying the same benefits at $5.
Identical Features in Each Plan
InterServer offers three different plans but the features in each plan are almost identical which means you're not missing out on something extraordinary by buying the cheapest plan.
The only difference you can watch out for is how many resources you're getting in terms of storage, emails, and memory.
So if you're a small website owner then there will be no difference for you in the $2.50 & $20 plan respectively except for resources. CHOOSE WISELY!
In my personal opinion, at the moment InterServer is offering one of the most powerful web hosting solutions for the price being charged.
InterServer's standard hosting plan uses some great technology which means you get fast websites at a great price. The plan was able to load my website with a lot of images and videos in 1.3s.
So you might think why InterServer's performance is impressive? Well, Bluehost or HostGator will load the same website 3 times slower. Yes, they are cheaper than InterServer but there is no big difference in price.
With each plan, you get InterServer's InterShield Security for free. This security protects your shared web hosting plan from web attacks, scans for viruses automatically, and comes with a malicious file scanning tool.
How InterServer's hosting security is different from other web hosting providers? This InterShield Security adds an extra layer of protection to your site without charging anything extra to you. Obviously, who will not like extra security for their business.
Server-Side Caching & Cloudflare Integration
Interserver is a hosting provider that takes its infrastructure thing pretty seriously and also takes the benefit of server-side caching and Cloudflare integration without going into too much technology.
What does server-side caching do? This basically helps in improving your website loading time by minimizing the time required to pass the database.
You might also like – DreamHost Web Hosting Review
What are the plans & pricing for InterServer Hosting?
InterServer gives you different hosting plans to choose from. No matter whether you are a young student or an experienced professional.
Standard Web Hosting ($1 For 3 Months)

Student Web Hosting for Free (Not Provided by other hosting providers)

ASP.Net

Boost Web Hosting

Reseller Hosting 

Dedicated Servers

Cloud VPS Hosting
Cloud VPS hosting and dedicated servers are a bit more expensive and suitable for medium to large businesses.
Standard Web Hosting Plan
It is the cheapest plan offered by InterServer and best suitable for beginners. The pricing of this plan starts from $5 but you can get a maximum discount of up to 65% and grab this hosting service at $2.50.
Features offered in the Standard web hosting plan are:
Unlimited Email Accounts
Free Website Migration
Inter Shield Protection
Free SSL Certificate
450+ Cloud Apps
Unlimited SSD Storage
30 Days Money Back Guarantee
As I told you before, InterServer doesn't offer quite many changes in features of Boost 2 and Boost 4 plans but provides you with extra resources.
Student Web Hosting For Free

There might be some students who want to upskill themselves or create a portfolio website. InterServer has a special gift for them in form of free web hosting for a year.
Students can grab InterServer's standard web hosting plan for free without paying any single penny. 
How students can get web hosting for free?
All they have to do is sign up on InterServer's hosting platform using your school's .edu mail and a team member of InterServer will load your 1-year credit.
Features you'll get in Student Web Hosting are:
Unlimited Storage
Unlimited Websites
1-Click Install from 450+ Cloud Apps
Free Migration Service
Easy to Use Control Panel
Dedicated Servers
InterServer has got your back if you are looking for advanced hosting plans. The minimum plan for dedicated servers starts at $49 per month.
There are some great free features offered by InterServer in their dedicated server plans. Let's take a deep dive into them:
Features offered in the Dedicated Server plans are:
DDOS Protection
Managed Support 
20 TB Transfer
Data Migration
6 Operating Systems 
250 GB SSD
8 GB Memory
Cloud VPS Hosting Plans

If you find dedicated servers expensive, then definitely have a look at the VPS hosting plans of InterServer. The pricing of VPS hosting plans starts from $6 per month. Cloud VPS hosting is quite affordable as compared to dedicated servers.
Features offered in the Cloud VPS Hosting Plans are:
30 GB SSD Storage
1 Click WordPress and other CMS Install
Windows VPS with Remote Setup
Cloud Remote Backup Service
Free Migration Service
Easy Control Panel
Is the performance of InterServer good?
To check out the performance of InterServer's hosting plan for you, I have purchased the standard hosting plan and created a WordPress website by adding some design elements to it.
After creating the website, I tested the performance with help of GTmetrix. The website loaded in 1.3s but remember no optimization was done on the website.
You might also like – Hostinger Web Hosting Review
Is InterServer Hosting Fast?
Yes after performing this test, I have to say it is really fast. The speed I got is almost close to the speed of $15 and $20 plans of other hosting providers.
With InterServer, it's actually not surprising that their server responded in less than half a second because they have their own data centers which utilize only 50% of the capacity on each server rather than overloading.
You might also be wondering what is the uptime of InterServer? Well, I have been observing them for the past 5 months and my website was only down for 1 hour which means InterServer scored an uptime of 99.98%.
Core Extra Features of InterServer
Core extra features are going to be different from the notable features mentioned above. Basically, the free features that I'm going to talk about make InterServer stand from other web hosting companies in a similar price range.
So what does Inter insurance provided by InterServer mean? It means that if your website is messed up or hacked, InterServer promises to investigate the reason for your compromised website. Let me know in the comment section if any other hosting company is providing this service?
In simple words, inter proxy caching means every time a user will visit your website the server will not look through the entire database files instead it will have a saved version of your website ready that can be shown to the user. This thing will make your website loading speed faster.
Inter shield security isn't something that you can turn on or off directly. The role of this shield is to basically protect your website and stop attacks.
Add-ons like these can be easily paid ones but as I told you before InterServer is a company that treats you like a human being not like a bag of money. Bonus point to InterServer for being a customer-oriented hosting provider.
Downsides of InterServer
I have talked about the features and almost positives of InterServer. Now, let's have a look into some downsides of InterServer that you should know.
It is the major negative that I have seen while using InterServer. The interface is a bit hard to navigate and looks outdated if compared with its competition.
90 to 95 percent of the work that you'll be doing is on the Cpanel or WordPress so that should not be a thing of worry to you. I hope they might update their interface in the future.
Another negative I see is that you won't get a free domain in any of their plans. Either you need to buy it separately or from InterServer itself. 
If you choose to buy a domain name from InterServer then it will be going to cost you $8 per year. It is not a major drawback but I wish they can include a domain name in their plans to make their users happier.
Data Centres Located in the US Only
Your target audience might be in Europe or Asia but InterServer has its data centers only in the USA. If a user visits your website from Asia or Europe then your website speed might get affected.
Why InterServer is not a Popular Web Hosting Provider?
Some users might not have heard the name of InterServer because they don't invest a hefty amount in marketing campaigns as compared to other big hosting providers.
InterServer also doesn't pay a lot of money to affiliates but I like them because their services are cheap and the approach followed by them of serving their customers first.
Refunds & Compensations:
Obviously, when you buy something you expect it to work, if it doesn't work you get your money back.
Well the good news is that if you're using InterServer you can do that because  if their service is offline you're entitled to free hosting.
It's written in their terms of service which nobody reads, right? Considering, there is a point in the terms of service where they say if your website goes below 99.9% up time then you can submit a ticket and they will inspect it and add credits to your account within 7 days.
Verdict: InterServer Review
The last and most important question is that whether you should choose InterServer as your web host or not?
With recent updates in 2020 and considering extra features provided by them, InterServer should be definitely on your list. It is an independent company who have built their hosting business from scratch.
In short, InterServer is fast, cheap and most importantly they charge a fair price. With more focus on users, you can always be sure that there is someone behind your back who can help you in solving website errors.
InterServer has themselves said that they are an honest web hosting provider trying to keep a fair approach and put their users first. 
InterServer's $1 for 3 Months WordPress Hosting is also a great offer to go for. You can try their services at the least possible price and without any risk as there is a money-back guarantee of 30 days.
If you're ready to get started with WordPress Hosting at $1 for 3 months or standard hosting plans then make sure you avail the biggest possible discounts from the link below.
FAQ Related To InterServer Web Hosting
How to get InterServer $1 for 3 Months Web Hosting?
It is a limited time offer by InterServer. This offer is not available on their website. Search - InterServer Web Hosting Review by Marketing Savior and you'll get a link by which $1 for 3 Months offer can be availed.
Where is InterServer Loacted?
The headquarters of InterServer is located in New Jersey and Los Angeles, USA. They offer cheap webhosting solutions like shared hosting, dedicated servers, VPS hosting and more.
What is Student Web Hosting?
Student web hosting is a special plan by InterServer where school kids can create their website without paying any single penny for first year. They just have to sign up with InterServer using their school email (.edu) and the offer will be credited into their account.
Is InterServer Good for WordPress Hosting?
InterServer is a great option to choose for WordPress hosting because they are cheap and provide great performance with powerful features. Apart from WordPress InterServer also host on 450+ Cloud apps.
Disclosure: This content contains few affiliate links, which means if you purchase any hosting via our links you will help us fund this blog. No additional cost will be charged to you. Win-win for both of us, right?
Summary
Reviewer
Date
Reviewed Article
Rating




Product Name
Price
Product Availability