Exclusive Semrush Free Trial
Are you struggling to come up with new content ideas that can help you rank on Google and grow sales for your business? Or maybe you wish there was a tool that can suggest you trending content ideas based on your niche?
Well, your wish is granted.
With Semrush content marketing toolkit, lift your content game by writing articles that your audience wants to read, modify your existing content plan, track your content performance and stay one step ahead of your competitors.
Let's discuss in detail: 
What is Content Marketing Toolkit by Semrush?

What are the different tools under the content marketing toolkit and how to use them?

How these content marketing tools helped us to level up our content strategy?
| | |
| --- | --- |
| | About Semrush |
| SUPPORT: | Knowledge Base, Call Support & Email Support |
| FEATURES: | Keyword research, On-Page SEO, Competitor Analysis, Content Marketing, Local SEO, Link Building, Paid Advertising, Paid Advertising, PPC Keyword Research |
| SEMRUSH PLANS: | Pro, Guru and Business Plan |
| SEMRUSH PRICING: | Pro Plan @ $99.95 (17% OFF) | Guru Plan @ $191.62 (17% OFF) | Business Plan @ $374.95 (17% OFF) |
| FREE TRIAL: | Activate Free Trial | Use Semrush for Free |
| REVIEW: | Detailed Semrush Review |
What is Content Marketing Toolkit by Semrush?
From researching, strategising, ideation, writing, editing, optimising to measuring the performance of your content, the content marketing toolkit by Semrush is packed with all the tools you need to execute your content game.
The toolkit basically consists of 6 powerful tools:
Each tool has its own features and is designed in a way to help you improve your content & rank better on search engines.
We've personally used the content marketing toolkit and believe us, it grew our traffic 1.5X or by 152% and that too within just 2 weeks.
Let's walk through the tools of the content marketing toolkit one by one and find out how each one can help you in making your content better.
SEO Writing Assistant Tool:
The SEO writing assistant tool (also called SWA) helps you optimize your writing from every aspect. The sole purpose of SWA is to check the tone, relevancy, originality, readability, user-friendliness & SEO friendliness of content.
Based on the above metrics, SWA generates an overall score in real-time. The more the score out of 10, the better optimised your content is.
And the best part is that you get SEO Writing Assistant as Google docs add-on and WordPress plugin. This means you can directly analyse your content in Google docs or WordPress text editor without even logging in to Semrush. Cool, isn't it?
How to use the Semrush writing assistant tool for content writing?
Firstly, create a free premium Semrush account or activate a free trial of the pro or guru plan.
Then, navigate to the content marketing dashboard of Semrush and click on Semrush writing assistant.
Now,
Click on the 'Get Recommendations' button to start analyzing your content.
Paste your content in the content box or write it from scratch.
Select the content template or set your goal by describing the keywords and location. The SWA tool will take them all into consideration. It will then analyze your content with that of your rivals thus giving you the best SEO recommendations on the basis of

Readability:
The readability in SWA tool gives you actionable advice on improving the reading flow of the content. It will suggest the possible content improvements so that it's easy to read and understand for users.
SEO:
The most important thing to consider while writing is making your article SEO-friendly. The writing assistant will thoroughly check the SEO friendliness of your content and give you a score based on metrics such as readability, content length, internal and external linking, targeted and semantically related keywords.
Originality:
Is your content fresh or has been already published elsewhere on the Internet? That is why it's important to check whether your content is plagiarized or not. The premium plagiarism checker within the writing assistant will analyse your content and make sure that it is 100% unique.
Tone of Voice:
It's important to have a voice that is unique to your brand. SWA tool analyses the content's tone to check whether it is formal, informal and goes along with your brand. Basically, it depends upon who is reading your content – professionals or youngsters and accordingly it gives you suggestions to improve your content.
This not only improves your content but also helps you to understand the writing style of your competitors. In short, it decodes your competitor's content strategy and helps you plan yours in a more smart and better way.
The online content writing assistant will also suggest an ideal content length that you should aim for while writing after looking at the average word count of Top 10 search results for the keyword you're targeting.
You can also detect how many times your targeted keywords appear in the content to avoid keyword stuffing.
SEO Writing Assistant WordPress Plugin:
After using the writing assistant tool in Semrush, I tested its WordPress plugin to see how it works, and guess what? It is in my favorite WordPress plugins list.
The SWA WordPress plugin has a really comprehensive way to analyze the content and make it effective directly into the content management system, that too in real-time.
How to use SEO writing assistant WordPress Plugin?
Login to your WordPress Website and go to the plugins section.
Search for Semrush writing assistant.
Hit the install button and click activate.
No settings need to be done. Just install, connect with Semrush, and use. It's that easy!
The writing assistant tool will be at the bottom of your article. Connect SWA with your WordPress by logging into your Semrush account or create a free account here.
All the elements and features of Semrush Writing Assistant are available within the plugin too.
Just enter your target keyword and click 'Get Recommendations'. Within seconds, you will be presented with Content Quality Score. The higher the score, the awesome your content is.
The most useful thing about the Semrush writing assistant WordPress plugin is that it presents you with a list of related questions that are being asked based on your targeted keywords. Include them in your content and enjoy the SEO benefits.
Quick Note –

The content assistant tool works best if you have a paid plan. Before purchasing it, Try Semrush for FREE.
Semrush Writing Assistant for Google Docs:
Do you prefer writing on Google Docs before publishing? Well, Semrush Writing Assistant is at your mercy!
In just one click, integrate the Writing Assistant with Google docs and VOILA! Start writing your SEO-friendly content. 
How you can add Semrush SEO Writing Assistant on Google Docs?
Visit the Semrush writing tool by clicking here and click 'Get add-on' directly in Google docs.
Allow the permissions and the tool will be added to your Google docs add-ons list.
Before you start to write, click on add-ons in docs and select Semrush writing assistant.
Now, login to Semrush and that's it. You're ready to use the tool without any restrictions.
You will be able to see all the scores and your targeted keywords. Follow the suggested recommendations and enhance your content on the basis of SEO.
Quick Tip → Some features might not work if you have a free account. It is highly recommended that you should either opt for a free trial or purchase the tool. Check this in-depth guide on How to activate Semrush Free Trial.
The writing assistant is very helpful for people who write their content in Google docs.
From the readability score to keyword recommendations, everything will be shown to you at one place thus adding more value to your content.
There is nothing that you can't do with SEO writing assistant by Semrush to enhance your content writing game.
It has all the required elements that will help you draft a perfectly optimized article in terms of search engine optimization.
SEO Content Template:
Don't underestimate the power of the SEO Content Template tool. It is one of the powerful tools that help you draft fantastic content pieces. 
Trying to optimize a fresh piece of content that you have just created or want to revise an existing blog post – SEO Content Template is your savior.
Based on your target keyword, it analyzes the top 10 ranking pages and thus suggests ideas to draft a content masterpiece that has a better chance of ranking.
If you have an active Semrush subscription, start using the content template tool right away, or else opt for a free guru plan trial.
With the free trial of Semrush, it's easier to evaluate most of its features and see whether it fits your requirements or not.
How to use Semrush SEO Content Template Tool?
Login to your Semrush account and navigate to the SEO content template.
Set up your target settings including country, region, city, and device type. Enter your target keyword/list of keywords that you want to rank for. Hit on 'Create SEO Template'
After analyzing the top 10 ranking competitors for the same keyword, Semrush will present you with a personalized template of recommendations for your content.
It will provide you with two types of recommendations: Key recommendations and General recommendations.
The key recommendation includes Semantically related keywords (LSI keywords), backlinks, text length and readability score.
Semantically Related Keywords – Include these suggested keywords while creating your content to rank better on SERPs. Check our in-depth guide on How to do keyword research with Semrush.
Backlinks – It also extracts the list of domains from where your competitors are getting backlinks and you can acquire them too. This is really helpful when you're planning on an outreach campaign for generating backlinks.
Readability Score – After analyzing the top-ranking pages as per your keyword, the readability score determines how easy to read your content is. In the case of most marketing-related blogs, the score is anywhere between 60-70 out of 100.
Text Length – It suggests the appropriate text length for your article. Generally, you should focus on creating long-form content i.e. more than 1000 words aiming to answer the searcher's query in detail. 
For in-depth analysis, you can also look at how your competitors are using your target keywords in their content. This will help you plan your content in more detail.
Also, make sure to avoid keyword stuffing i.e. DO NOT repeat the same keywords again and again as it can get you penalized from Google. Instead, include LSI or related keywords to sound more professional and look less spammy.
With this, you will get a fair idea that what you should be doing with your targeted keywords.
Basic recommendations of SEO Content Template includes:
Well, these are the most important part of SEO that you'll be doing anyway. So, you don't require a content template for that.
Content template not only assists you in writing a new blog but also guides you to tweak your existing blog content which is ranking on page 2 or page 3 of Google.
To audit your previously published content, run an audit and watch out where you rank as compared to your competitors.
Just like the writing assistant tool, the SEO content template has a real-time content checker. Write or paste your content and determine how it is performing in contrast to the articles that are ranking higher in SERPs.
With little effort, you can drastically improve your on-page score for a particular piece of content. If content writing isn't your expertise, then you can order content writing services from the Semrush marketplace.
Topic Research Tool:
The topic research tool lends a helping hand to content writers, strategists and SEOs for planning their content calendar. In just one tap, get fresh content ideas, headings, topics, related content to outrank your competitors.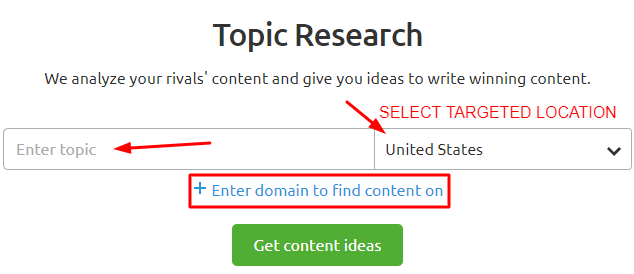 The tool finds the most popular content pieces of your particular niche doing wonders on Google over the course of time, aggregate them all and present them to you in a simplified manner.
It thoroughly analyzes your competitor's content and suggests ideas that you can integrate with your content to make it more appealing.
One of the best things about Semrush's topic research tool is that it saves your valuable time and effort by unveiling the winning content ideas that you can use within your space.
For example, remote learning is the most trending topic in the education sector. Use Content marketing Toolkit to create your own masterpiece around that topic that is not only SEO friendly but also better than your competitors.
How to use Topic Research Tool by Semrush?
In the Semrush dashboard, navigate to the topic research tool under the content marketing toolkit.
Type the topic you want to get ideas about and select the country you want to target.
It will present you with different sections. The sections will be as follows: 
Cards:
In the cards section, you'll be able to see highly efficient topics that are correlated to your targeted topic. Within cards, you can get tons of content ideas right off the bat.
One of the coolest features of Semrush is that it allows you to filter questions by type. It is extremely important to answer inquiry-based queries when it comes to building up your brand's presence and authority.
Figure out what your audience is asking and searching for and then draft content around it.
The reason you should create content around frequently asked questions is that you will directly be answering customer queries and building your authority. So, people will reach out to you whenever they get stuck on that specific thing.
Explorer view:
Explorer offers a great way to look at how others have engaged with similar content in your niche. The metrics include –
Overview:
The overview section gives you a great high-level overview of some of the most commonly used headlines as well as a list of interesting questions.
Aside from the headlines and questions, the overview actually shows you some of the related searches commonly used within your targeted topic.
These related searches are more of long-tail phrases that you might not have even thought of before. Truly, the power and potential of Semrush's topic research tool is commendable.
Mind Map:
Mind map view presents the data in a visual format rather than a card or list format.
While brainstorming the content ideas, you can use this data to visualize what your potential audience is asking. Or else place yourself in the customer's shoe and ask yourself "what sort of content would I like to engage with?" You'll get your answer.
Brand Monitoring Tool:
Semrush's brand monitoring tool allows you to keep a track of the daily mentions of your business-related keywords across the internet.
Track your brand's reputation online, detect the marketing opportunities you've been missing out on, measure estimated reach and keep an eye on your overall brand reputation. This tool is greatly helpful for PR managers, brand managers, and marketing specialists.
How to use Semrush Brand Monitoring Tool?
Within Semrush, create a project for a domain and click on set up.
Type in the brand name you want to track – you can use up to 3 names with 5 related keywords. You can exclude the keywords that you don't want to track.
Select up to 5 targeted countries. That's it!
You'll find all-new brand mentions within a specific time period. Track metrics such as:
Tracking your brand mentions with the brand monitoring tool is a no-brainer. 
Check where your brand is mentioned and reach out to them for backlinking opportunities.
The brand monitoring tool of Semrush is within their content marketing toolkit so you don't need to buy a separate tool to track your brand's online visibility.
Have feedback or suggestions? Reach out to Semrush's team and your suggestions on how they can improve it more. They'll be more than happy to answer all your queries and improve the tool as required. 
Content Audit Tool:
If you have a content-focused website with a great volume of articles/pages, the Semrush content audit tool is your best bet. It will analyze your content based on the following:
The primary objective of the Semrush content analyzer tool is to audit the website content, watch out for the engagements and total reach of your content.
Identify which content is performing well and what needs improvement. Based on that you can plan to revamp your content to attract quality traffic.
We at Marketing Savior do guest posts, it really helps us to track and monitor the reach of our guest posting campaigns.
How to use Semrush's Content Audit Tool?
Since we created a project before, now just click on the setup after navigating to the content audit tool.
Select the section of your website on which you want to perform the audit. Semrush will pull categories and URLs from the sitemap of your website. You can either choose a particular category or page URLs or both as per your requirements.
To see the detailed information within the dashboard, connect your Google analytics and Google search console.
Once the connection has been set up, you can start identifying the pages that need to be optimized.
In the content sets section, Semrush will recommend articles that either need to be rewritten or removed, which need to be updated, which need a quick review, and the ones that have low-quality content with fewer engagements and traffic.
When you have a good quantity of content data on your website, it is necessary to timely update them and stay relevant.
If you want to track the reach of your guest posts, then we highly recommend connecting Google analytics with Semrush for accurate data.
How to use Semrush Post Tracking Tool?
Navigate to Post Tracking Tool under the Semrush content marketing toolkit and enter the URLs you want to track.
It will lay down the results all the metrics – Referral Traffic, target keywords, post shares, backlinks and estimated reach.
Look for Facebook and Twitter shares. More the shares, more effective your content has been.
Add keywords you aimed to rank for and check the position of the post on Google Search. Semrush will also display the volume of that particular keyword.
Compare your articles with that of your rivals and check how well you are performing.
Which Semrush Plan We Are Using?
Currently, we are using the Guru plan of Semrush. It is worth every single penny that we have spent. You can use the Guru plan for free by activating the free trial of Semrush.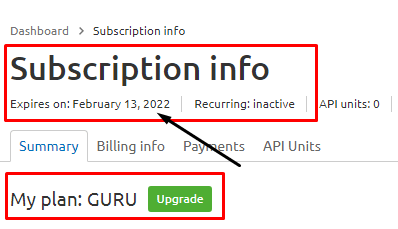 Firstly, we have gone for the free trial of the Pro plan and after that purchased Semrush. But the pro plan wasn't enough to satisfy the needs of my website so I upgraded the plan.
The guru plan of Semrush is really helpful for us as it has everything we need to grow organically especially this premium content marketing toolkit.
How Semrush Content Marketing Tools Boosted Our Marketing Game?
After trying all the powerful features of the pro plan, we upgraded to the next level i.e. the Guru plan.
The Semrush content marketing toolkit turned out to be a game-changer for our content strategy. Its highly effective insights and in-depth analysis guided us to improve the quality of our content. 
The SEO writing assistant tool analyzes the content instantaneously.
The Semrush writing assistant plugin and Google doc add-on present leading content ideas on a plate without much effort. Every single detail is available in both Google doc as well as plugin. Imagine the amount of time you are saving?
The Semrush content template tool helped us to analyze the top-ranking pages effectively within no time.
With the help of some well-qualified recommendations, we improved our content's SEO and user-friendliness.
The Topic research tool acted as a cherry on top as it made our work easier by giving us topic ideas that our audience will love and would like to engage with.
It genuinely helped us in brainstorming and prioritizing what content we should create next.
Semrush helped us and it can help you too!
I hope you find this Semrush content marketing toolkit guide useful and our story that how it changed our marketing game.
How is your experience with Semrush? Tell us in the comment section.
Content Marketing Toolkit FAQ:
What is Content Marketing Semrush?
The content marketing toolkit by Semrush is a premium toolkit especially designed for marketers to help them in creating new content for brands. With the help of this toolkit, you can find new content ideas, update your existing content, research and audit your content.
How do I get content ideas from Semrush??
For getting content ideas from Semrush, use the topic research tool within their content marketing toolkit. Just add the keyword you want to create content around and the tool will give you ideas on how and what you can create.
Disclosure: This content contains few affiliate links, which means if you purchase any hosting via our links you will help us fund this blog. No additional cost will be charged to you. Win-win for both of us, right?
Summary
Reviewer
Date
Reviewed Article
Semrush Content Marketing Toolkit
Rating





Product Name
Semrush Content Marketing Toolkit
Price
Product Availability