Exclusive Semrush Free Trial
Is Semrush worth it? Is it the best keyword research and SEO tool in the market? All these questions and other queries are going to disappear in this detailed Semrush review.
In this article, we will be going over absolutely everything that you should know about this digital marketing tool before making a decision on whether you should buy Semrush or not.
Quickly, I would like to tell you that if you're interested in purchasing Semrush then go with the free trial first and after that you can easily purchase Semrush without any hassles. Make sure that you click the free trial link of Semrush given above before buying it.
| | |
| --- | --- |
| | About Semrush |
| SUPPORT: | Knowledge Base, Call Support & Email Support |
| FEATURES: | Keyword research, On-Page SEO, Competitor Analysis, Content Marketing, Local SEO, Link Building, Paid Advertising, Paid Advertising, PPC Keyword Research |
| SEMRUSH PLANS: | Pro, Guru and Business Plan |
| SEMRUSH PRICING: | Pro Plan @ $99.95 (17% OFF) | Guru Plan @ $191.62 (17% OFF) | Business Plan @ $374.95 (17% OFF) |
| FREE TRIAL: | Activate Free Trial | Use Semrush for Free |
What is Semrush?
Semrush is a well-known SEO software suite that will help your website ride to the top of google search results. You're going to get every tool within Semrush covering every digital marketing aspect.
In simple words, Semrush is a SaaS tool developed to help marketers & SEO professionals in achieving top ranking in major search engines. Semrush helps you to find out what your competitors are doing and also analyze your own website.
Every strategy of your competitor is revealed like what keywords they are targeting, where they're getting traffic, and how many backlinks your competitor has. Semrush will do everything for you by running a complete analysis and finding the data for you.
In the present scenario, Semrush has a user base of over 7 million users across the globe, that's insane!
Semrush gives you a lot of in-depth information for creating new highly optimized SEO content that can help you to attract traffic. It identifies link-building opportunities and helps in resolving technical issues of your website so that it can achieve higher rankings.
For example, with the help of the Semrush keyword tool, you can get keyword suggestions based on a particular targeted keyword that can be included in your content.
Not only that, but it will also tell you how difficult it is to rank for a particular keyword phrase. SEMrush will also suggest some websites that may be worth visiting for backlinks.
Honestly, there are a plethora of features provided by Semrush which are specially designed to help in improving the site's position on major search engines.
One of the major pros of having a premium SEO tool like Semrush in your toolkit is that you won't need to purchase any other digital marketing tool. All the things from social media to content are present in Semrush.
Semrush does have too many features but in this article, I'm going to talk about the ones that I found the most useful and best ones while using the tool.
Features of Semrush:
Semrush allows you to analyze your website besides your rival's site. Before starting competitor analysis, it's always important to see how your own site is performing on various parameters and make sure that it is up and running properly.
Understanding your website's health and solving any issues hurting its SEO is a great start but you'll need more than just that to rank on Google.
Things that you should look at while analyzing your site –
What are the top organic keywords that your site is getting traffic from
What is the position of your keywords
How many backlinks does your site have
Not only this, but you can also dig deep into how well your paid search campaigns are performing if you're running them. Everything related to your domain will be unleashed.
Identify your organic competitors –
This feature of Semrush becomes really helpful in identifying your organic competitors. It is one of the most important elements if you want to dominate in search results. The aim here is that you'll understand what your competitors are doing and how you can do it better.
To identify your organic competitors you just need to type your domain name and Semrush will show all the websites that are similar to yours and ranking in the SERPs as well.
When you'll click on the competitor's domain name, you're going to get every information about them like the traffic, backlinks, and common keywords.
With this, you'll be easily able to know, who you want to outrank and once you discover whose those competitors are, you can easily enhance your SEO strategy.
Site Audit and Fix Errors –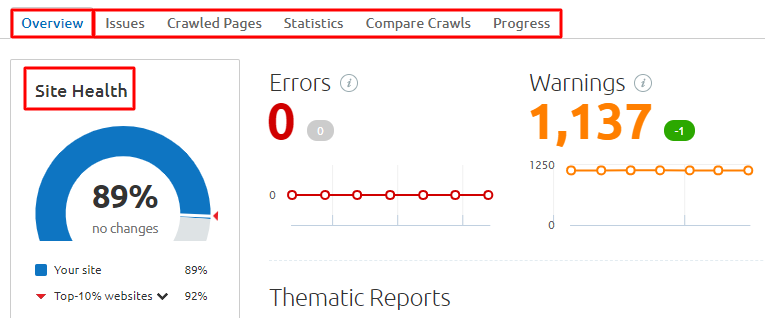 You can do a site audit for your site or your client's site and Semrush will tell you the areas that are doing well and things that might need to be fixed. You'll be able to see errors, warnings, and notices.
Once your site becomes big then it won't be easy to find errors so the Semrush site audit tool does everything for you in just a click.
You can also run a site audit on certain pages and check out whether there is an error on that particular page or not. Semrush site audit tool becomes really helpful for SEO professionals who want to go deep in analyzing websites.
With the help of the Semrush on-page SEO checker tool, you can have a look and check if your content piece checkmarks all the on-page and off-page SEO elements like your content's quality, backlinks authority, page titles, heading tags, meta descriptions, and technical SEO.
You want to make sure that you're having a close look at all these things. Semrush analyzes every page on your site and then you're going to get instantly actionable tips to optimize your content and pages. Just click on the content ideas and you'll be given a bunch of ideas for a particular website.
PPC analysis tool of Semrush will help you to keep a track of paid keywords that your competitors are targeting and ranking in SERPs.
You can also have a sneak peek into their ad copies and watch all their ad content including the targeted keywords. The information can help you to compete with your competitors in paid advertising effectively and efficiently.
Now you surely won't be duplicating the competitor ads but it can give you an idea of how they are strategizing and copywriting the ads.
Various Content Optimization Tools –
Now What about the content? Can Semrush help with Content too?
Well, the answer is yes. Semrush makes your life easier by providing several tools to help you find new ideas and write SEO-optimized copy while the topic research is perfect for finding the next subject to discuss for your company's or client's blog.
Read our detailed article on Semrush content marketing toolkit review covering every content marketing tool of Semrush in detail.
The SEO writing assistant scans your writing and points out what needs improvement, you can also run a content audit where Semrush crawls through your website to find pages that need reworking.
The software categorizes each piece of content to give you a clear idea of whether the time spent reworking the page would be worth it.
It is important to let you know that Semrush also offers additional tools and also plans that come with social media management and paid search analysis but there are some other features you can get by paying extra such as Semrush local SEO, Semrush .trends, and the Semrush agency growth toolkit.
Tools Under Semrush –
Semrush Keyword Magic Tool:
The keyword magic tool of Semrush can definitely help you in finding the right targeted keywords that too in seconds. Your research begins by typing in potential keywords that you want to target and Semrush will display search volume, trends, competition, keyword difficulty, and much more.
The tool will also provide you with how-to keywords that you might have not thought to consider while creating your content. These how-to keywords can really add value to your content and will help in increasing your ranking in the SERPs.
In the keyword overview tool, you can easily list up to 100 keywords in one go and after running the analysis, you can either compare the keywords in a table view or open them up to find further information.
Competitor analysis tool:
The rank tracking tool and keyword magic tool are very high-quality tools but Semrush truly excels with its competitor analysis. The tool will compare your site and your rival's site so that you can get the data for the keywords they are ranking for and you're not, and which keywords you should target as per the competition.
The market explorer feature goes through your site and reveals the websites that are in the same niche. You can have an eye on these websites and watch out for their traffic sources and channels.
Backlink Analytics & Overview Tool:
Backlinks are also one of the important SEO metrics that you should keep an eye on. Having high authority websites linking to yours is great for SEO but it can be a bit difficult to have a decent link-building strategy unless you're using Semrush.
The platform grades all backlinks with different toxicity levels which allows you to understand which backlinks you should ask Google to remove.
As mentioned above, Semrush also scans the web to find the best places for your website to have backlinks, even more, interesting the SEO suite displays contact info so that it only takes a few minutes for you to send an email asking to write a guest post.
Semrush Plans:
For any small agency or an SEO freelancer, this plan has everything that you'll require to grow a website or brand. The best thing about Semrush is that it gives access to most of its powerful features in the lower plan itself.
The pricing for the plan starts from $119.95 per month and you can get this plan for $99.95 per month at a discount of 16% if billed annually.
Don't worry if the pro plan doesn't satisfy your needs. Semrush has something more powerful to offer you.
The Semrush guru plan is best suitable and great for small-medium businesses and fastly growing marketing agencies. This plan also offers a free trial that can give you full access without any limitations.
Semrush pricing for the guru plan is $229.95 per month and you can get it for $191.62 per month at an exclusive discount of 16% if purchased annually.
The ultimate Semrush plan with all the powerful features included in it. Semrush business plan includes all the features provided to you in the pro and guru plan.
The business plan of Semrush is best suited for big agencies, eCommerce projects, and businesses with a large and extensive online presence.
Semrush pricing for the business plan is $449.95 per month and yes there is a special Semrush discount too! You can get the Semrush business plan for $374.95 per month at a discount of 16% if purchased on yearly basis.
Which Plan of Semrush is Best For You?
We at Marketing Savior are using the pro plan for a long time now. It has really been up to the mark.
We have gone for a free trial first and after using it for some days and after a while we purchased Semrush as it has the capability to satisfy our needs. 
The pro plan of Semrush is the cheapest one. I would definitely recommend you to go for a pro plan first and try hands with the tool. Mostly all the features of Semrush are available in this plan and that's why we love Semrush.
There will be no problems if you want to upgrade or cancel the subscription to the tool. Just mail it to the Semrush team and your query will be resolved within one working day.
Try Pro Plan Free Trial Here | Try Guru Plan Free Trial Here | Try Business Plan Here
Semrush Pricing:
SEO software is generally a sizeable investment and that's also true for Semrush. The company doesn't offer multi-user subscriptions instead you need to pay a monthly fee for each extra user and the cost depends on the plan.
Semrush has everything that anyone could possibly need so you might be thinking to yourself that all of these features are great but what is the pricing of Semrush? It might be too expensive!
Well guys, trust me it's really not. Semrush pricing starts from $119.9/month that too you can get an exclusive discount of 16% OFF if annually purchased. Semrush does offer a free trial so you should be activating that without any doubt.
Semrush provides a higher number of daily searches than its competitors. There are basically 3 Semrush plans that you can choose from.
Some features like the content marketing toolkit are only available in more expensive solutions. Semrush offers a large number of projects and daily reports for those who get the higher-tier plans.
If you're thinking that $119.95/month sounds expensive, just activate the Semrush free trial and use the tool for free.
I'm sure you'll change your mind related to the pricing because of the helpful tools that they offer. Once you start using Semrush, you will yourself find that it is very cheap.
It is possible to use Semrush for free but you're limited to 10 daily searches which aren't going to satisfy your needs.
Semrush Pricing Compared to Other SEO Tools:
A bit of simple calculation here –
If you were going to buy different tools for keyword research, backlink research, PPC management, social media management, content marketing, and much more. Each tool will cost you around $50 and with very limited features.
Take a look at other tools and their pricing –
Ahrefs for Backlink Analysis | Pricing – Cheapest plan of $99 with limited access (Semrush vs Ahrefs)
Similarweb for Traffic Analysis | Pricing – You need to get a quote by contacting the team (Semrush vs Similarweb)
Moz for Website Overview | Pricing – Cheapest plan starts from $99
Spyfu for Competitor Research | Pricing – $49 for researching competitor's
BuzzSumo for Content Marketing | Pricing – $49 only for content ideas
Whereas within the lowest pricing plan of Semrush, you'll get all the digital marketing tools required to acquire some awesome web traffic and rankings.
In a free trial, you can easily use all the features given in the plans of Semrush without any issues and limitations.
If the tool is satisfying your need, then go for it without any thoughts, and if it doesn't then cancel the trial any day.
Is Semrush Worth its Price?
I have been using Semrush for a while now and you do get access to a lot of tools that will be required in your daily digital marketing activities.
No tool is 100% perfect, but Semrush has always kept its users first and tried to solve problems by providing accurate data and regular updates.
Every amount spent on Semrush is worth a single penny. The pricing of Semrush might look expensive on the first go but when you'll start using it, trust me there'll be no going back.
So I hope by now you must have got your answer that whether Semrush is right for you or not and Is Semrush pricing worth it.
Support Options & How To Guides:
The number of resources Semrush provides to help users understand the software is really commendable.
From guides to video tutorials, podcasts and webinars, you'll be able to find information on how to use Semrush in your favorite media format.
It's not only about the software as Semrush Academy offers free courses to anyone who wants to develop their digital marketing skills.
Although anyone would prefer 24*7 support, it's good to see that Semrush keeps in mind its international user base and that's why it has phone numbers for various countries each with its own working schedule.
Additionally, you can get in touch with the company via the live chat which is open on weekdays from 3 AM to 6 PM and on weekends from 4 AM to 10 AM eastern time.
Semrush PROS –
Comprehensive site-auditor:
When you're working for clients and even for your own website, you need to conduct a site audit that can give you in-depth details for a website. 
Semrush stands out apart from its rivals when it comes to site-auditor, anything that you want to know whether it be technical errors or pages which are indexed or not, everything is revealed.
In-depth keyword analysis:
When you start using the keyword magic tool of Semrush, it's going to be very difficult for you to switch to another one. Why?
Because of the details and insights, you're going to get. The tool is going to show search volume, keyword difficulty that how much hard it is to rank for a particular targeted keyword, CPC if you're going to run paid ads, and my personal favorite which is Intent.
With the user intent of the keyword, you'll be getting to know what is the behavior of a person when he/she is typing a particular keyword. 
This information can help you to target transactional keywords, informational keywords, and commercial keywords as well.
Content marketing tools:
It is very important that when you're looking for an SEO tool it does consist of tools that can help you with content marketing. What to write, how to write, what things your competitors are doing to rank in the SERPs, and what you should do to overcome them.
Semrush content marketing toolkit helps you with all these things and removes all the barriers you might be facing with your content. From writing to editing, everything comes under this toolkit making Semrush apart from its rivals.
Create Reports with a Click:

Now, this can be a big pro for those people who are working for clients. You can easily create detailed reports with all the relevant information that you want to show your clients with your branding if you have purchased the tool.
I love the concept of this report as it saves time and you get a professional report without any additional cost.
Semrush CONS –
Data Available only for Google & Baidu:
As you know Google is one of the most popular search engines and has the highest share in the market. Semrush only provides data for Google and Baidu search engines.
The data for search engines like bing isn't available. Yes, this might be not a big con for many people but for some, it might be!
Lacks 24*7 customer support:
As such you won't require any particular support on how to use the tool as much information and videos are available online.
But customer support comes into play if you have made your payment and you're getting some kind of error or any feature that you want to understand fully.
Verdict – Semrush Review:
There are a lot of things to be loved about Semrush. The software provides comprehensive website audits and in-depth keyword analysis without being overly complicated to use.
Of course, you'll still require to learn how to use the software due to the high number of features it provides but the extensive content marketing tools available really makes Semrush shine over its competitors.
Semrush is an excellent option for online media companies that want to increase their web traffic and grow their digital business. Although the software can work for everyone this is where the return on investment will be higher.
Overall, I think Semrush is an essential SEO tool for any website or a business owner. I couldn't think of myself without a subscription anymore. It really helps me in increasing the traffic and overall website so it's an essential thing for me.
If you're thinking about joining Semrush then do it right now by clicking on the free trial link of Semrush given below.
You can use the tool for a week without any cost so you have got nothing to lose, just give it a shot to the free trial and if you don't like Semrush then you can cancel it anytime. You won't be losing a single penny!
What is the pricing of Semrush?
The lowest plan of Semrush starts from $119.95/month which is the pro plan. The guru plan of Semrush starts with $219.95/month which includes the access of premium content marketing toolkit.
What are the disadvantages of Semrush?
The first con would be that the data available in Semrush is just for Google and Baidu. Secondly, the customer is not available 24*7.
Disclosure: This content contains few affiliate links, which means if you purchase any hosting via our links you will help us fund this blog. No additional cost will be charged to you. Win-win for both of us, right?
Summary
Reviewer
Date
Reviewed Article
Rating





Product Name
Price
Product Availability