Exclusive HostGator Coupon Code
To be a big player in the hosting industry, you have to offer something special and HostGator is a big player since they are in the hosting business for over 19 years.
HostGator is hosting a large share of websites so they must be doing something special for their consumers. Right?
So if you're looking for the best HostGator coupon code for hosting or renewal, then look no more around and learn how you can get maximum discount on HostGator India plans. 
| | |
| --- | --- |
| | Our Verdict: 4/5 |
| SPEED: | 739 ms (April 2020 to March 2021) |
| UPTIME: | 99.96% (April 2020 to March 2021) |
| SUPPORT: | 24*7 Live Chat & Phone Support, Knowledge Base |
| APPS: | WordPress, Drupal, Wiki, Joomla, Magento, phpBB |
| FEATURES: | Unlimited bandwidth and storage, free SSL, free domain for 1st year, website builder, Email account, EMI payment options |
| HOSTING PLANS: | Shared, VPS, Cloud, Dedicated, Reseller, WordPress |
| PRICING: | Starting at ₹99 (70% OFF) |
| WordPress Hosting: | ₹249 | Activate Coupon Code |
How to Activate HostGator India Coupon Code and Try HostGator for free?
Step 1 – Click this special promo code link to go on HostGator's website.
Step 2 – Choose the hosting plan you would like to buy.
Step 3 – Add this special code 'SUNSHINE' while paying for the plan and you'll get the maximum discount.
Step 4 – Now, you have successfully activated the HostGator coupon code in 2022 for hosting. Enjoy!
Is HostGator Coupon Code Working?
The viewers of marketing savior have saved up to 61% by using this coupon code and tried HostGator for free too.
There is a money-back guarantee of 45 days so if you're not satisfied with the service of the company, you can end your contract with them.
InterServer, Hostinger, DreamHost are also some of the competitors of HostGator. You can check a detailed review of each hosting provider.
The HostGator promo code for domain names and hosting keeps on changing so we update the article according to the latest HostGator discount codes and coupons.
You should definitely try HostGator and check their services by using them personally. You can also have a look at Bluehost's pricing and plans.
What is HostGator?
Let me give you a quick overview of HostGator hosting.
The company offers a lot of different services for your site from shared hosting to website builders.
HostGator is one of the web hosting companies in India that are offering their services at very reasonable prices.
The cheapest plan of HostGator India starts from ₹199/month but with the HostGator coupon code, you can get this at a 50% OFF for ₹99/month.
Now without wasting any time, let's go deep into the pricing of their hosting plans and look at which HostGator plan is best for you.
What are HostGator India Hosting Plans?
Web hosting plans offered by HostGator:
Note: You can get the maximum HostGator discount when you choose to host your website for the longest period of time. With HostGator, you can get a maximum discount if you host for 5 years.
Shared hosting is really a great option for beginners to start with. The cheapest web hosting plan of HostGator India is the starter plan.
The starter plan is offered to only Indian consumers which means if you will be landing on HostGator.com, there will be only 3 plans available starting from Hatchling.
The 4 different plans in their shared hosting option are:
Shared Hosting Plan Features
STARTER PLAN
HATCHLING PLAN
BABY PLAN
BUSINESS PLAN
Is HostGator Shared Hosting Worth it?
The features of each HostGator shared hosting plan are quite good. You get everything you need to start a website from scratch.
HostGator India gives you an option to pay your hosting bill on EMI. This is something that is not offered by many hosting companies.
The baby plan is best suitable for those who are looking to host not just 1 website but many websites and HostGator's business plan is best suitable for those who are in need of free dedicated IP too.
You'll also be getting 24*7 support via call, email, or live chat. Easily install CMS such as WordPress, Joomla, Drupal, and Magento.
There is no doubt that HostGator offers some great pricing options in their shared hosting plans.
You can definitely give this hosting a try. Click on the link below to activate the latest HostGator coupon code.
HostGator WordPress Hosting Coupon Code
HostGator India's WordPress plans are really great and specially optimized for WordPress websites. 
The major difference between shared hosting and WordPress hosting plan is that shared hosting plans are not specifically optimized for WordPress.
It is one of the major reasons why most people choose WordPress plans as it will increase the speed and performance of your website too.
HostGator gives you an option to select your website's theme from its hundreds of available themes and plugins so that you can build your website without getting too much into coding.
Like shared hosting, HostGator has launched 4 WordPress hosting plans for Indian consumers and the cheapest plan of HostGator WordPress hosting is the starter plan that can be availed at 50% Off with the HostGator coupon code given below. 
WordPress hosting plans are as follows:
WordPress Hosting Plan Features
STARTER
PERFORMANCE
BUSINESS
PROFESSIONAL
Is HostGator WordPress Hosting Worth it?
Mostly, all plans have the same features but there is a big difference between storage, RAM, and visitor handling capacity.
You can select your hosting server according to your targeted country. HostGator gives you a choice to choose from an Indian server or the United States server.
Before buying WordPress hosting plan you must know what are your website requirements and needs.
It will become easy for you to choose among the above-described plans. Otherwise, the pricing of HostGator WordPress hosting plans in India is really reasonable and worth it.
HostGator VPS Hosting Coupon Code
Now we're jumping into the more expensive category of HostGator plans.
VPS hosting might not be suitable for everyone but this hosting can make your site load very fast because you'll not be sharing ram or bandwidth with other users like you do in shared hosting.
Intel and AMD are industry leaders and HostGator has tied up with these companies to make their VPS hosting platform more powerful and optimal.
HostGator also makes sure that your data is always safe so they automatically take backup of your private server data on weekly basis.
HostGator is among the fastest and reasonable VPS hosting providers in India.
VPS Hosting plans include:
VPS Hosting Plan Features
SNAPPY 2000
SNAPPY 4000
SNAPPY 6000
SNAPPY 8000
Why you should choose HostGator VPS Hosting?
For advanced users, there are tons of reasons to use a VPS or dedicated environment.
But for the novice to the intermediate user, a VPS would be a great decision when your website starts to grow. 
VPS hosting plan would be extra great for a growing website because of the extra features, control, and scalability.
The beauty of HostGator India is that you can easily start with a shared hosting plan and when you're ready to make a switch, the team of experts will switch your site from shared to VPS.
Overall, VPS hosting plans are really awesome for anyone with good website traffic. The pricing of HostGator is quite reasonable when compared with the features offered.
HostGator Dedicated Hosting Coupon Code
Dedicated hosting is essentially a service that lets you own a complete server in their data center.
All the resources that will be in the plan will be available only for you. The only negative side of dedicated hosting is that the prices are quite expensive than other hosting options.
Pro Tip: Dedicated hosting is mostly suitable for high-performing and heavy-traffic websites. 
HostGator India offers 4 dedicated hosting plans:
Dedicated Hosting Plan Features
Is HostGator Dedicated Hosting Worth it?
The dedicated hosting plans we talked about above comes with a set amount of resources.
However, each HostGator plan does offer a really nice extra feature because if you don't find the specifications of their servers adequate then you can contact HostGator and let them know your specific needs.
The team of experts will create a custom server especially for you. You can choose between Linux, Windows, and Managed dedicated hosting.
Without any doubt, HostGator's dedicated hosting plans are really worth it and are considered to be one of the best-dedicated hosting providers.
Click on the link below to activate the HostGator dedicated hosting coupon code.
HostGator Website Builder
Forget all about writing walls of code or using complex programs to build a website, those days are over.
Most hosting providers offer website builders either with their hosting plans or for a small extra fee, but do you know what website builders are?
It basically means an application that allows beginners to create complex websites using the browser's visual interface.
To break it down for you, even more, website builder means that the builder itself is in the browser so no downloading or installing any software.
The visual interface means that instead of coding, you get an interface similar to phone apps or pc software.
HostGator Website Builder Pricing:
Sadly, there is no trial or free plan to test out HostGator builder before committing to it.
You do get 2 options when it comes to using this tool either you buy as a separate plan or with shared hosting as discussed above.
The pricing for the builder starts from $3.84/month and you get this price by activating the HostGator discount code.
This plan comes with all shared hosting features. Then why the price of website builder is high than shared hosting plan?
With shared hosting, you're not allowed to create e-commerce websites. The cheapest website builder plan allows you up to 3 products and 3 email marketing campaigns.
You can definitely make a web store from scratch just by installing WordPress and Woocommerce but the builder option is for people that want to have everything already set up, just create a site and start selling.
Is HostGator Website Builder Worth it?
The website builder by HostGator is actually a pretty powerful and useful tool. It's good that you get the basic version of this builder even if you buy HostGator shared hosting.
While the website builder's individual plans are not the cheapest. But if you're looking for a similar product than do give HostGator a try.
Conclusion: HostGator India Plans & Coupon Code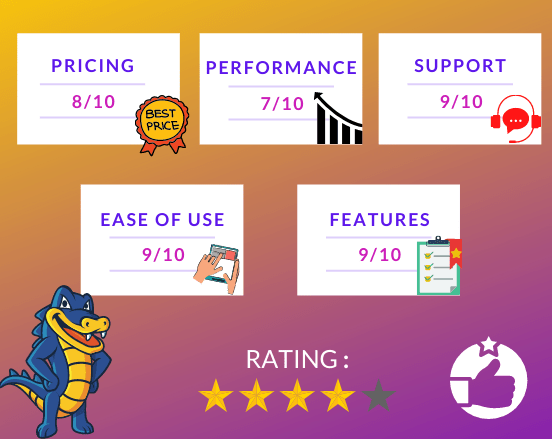 This hosting is definitely a nice and affordable option for beginners and small businesses.
HostGator plans are quite a powerful combination of features and tools for the price you pay. You also get a website builder with shared hosting plans to create your site without too many hassles.
Although we didn't talk much about the performance of HostGator, they have an average uptime of 99.96% and the support is available 24*7 to solve your queries.
The only downside I noticed with them is that HostGator sometimes might charge you more for domain names. So keep an eye on that too if you are looking to purchase a domain name from them.
HostGator coupon code in India and outside India is definitely up and running. Our readers are enjoying benefits and getting maximum discounts on HostGator hosting that you can acquire as well.
How much does HostGator cost?
The minimum plan of HostGator outside India starts at $2.75/month and within India it starts at ₹99. HostGator offers cheap web hosting plans in the market and is really good for beginners.
Are HostGator Coupon Codes valid?
Yes most of the codes and discount offers are valid. Don't get attracted towards more and more discounts and instead getting scammed. Be careful!
Disclosure: This content contains few affiliate links, which means if you purchase any hosting via our links you will help us fund this blog. No additional cost will be charged to you. Win-win for both of us, right?
Summary
Reviewer
Date
Reviewed Article
Rating




Product Name
Price
Product Availability